Here's a fun and beautifully delicious deal to add to your CVS shopping list!  Starting 10/17,  you will receive $3 ExtraBucks Rewards when you Spend $10 on Sally Hansen Insta-Dri Nail Polish or Sour Patch Kids/Swedish Fish candy. The Nail Polish is priced starting at $5.99 and the candy is priced at $2.99 depending on the region you live in. The holidays are just around the corner, and these could make great stocking stuffers!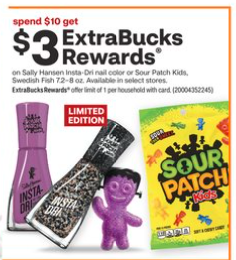 You can pick this up for only $8.97 total when you buy all 3 after the ExtraBucks Rewards….NO COUPONS NEEDED!  Remember to check your CVS app for special offers and discounts and scan your Extra Care Card at the Coupon Center in store…..you never know what surprises you might find there!
One great coupon that I WAS able to apply to my order was a 32% off your order Load to Card offer. It was texted to me so I could add it to my account. As we all know, CVS % off coupons only will deduct from regular prices, as are the prices here. If you don't get texts from CVS, you can text EXTRA to 397473 and start!
Here is your deal at CVS

---
More CVS Deals You'll Love: