It's that time again!  Time to check out what deals we can score at Stop & Shop beginning Friday, with their new gas reward offers!  This week we have 2 gas reward promotions.
If you are not familiar with Gas Rewards here is a breakdown…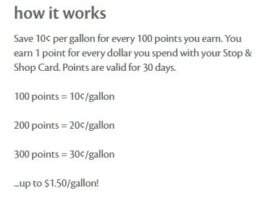 There are always many different deal ideas you can work with gas reward deals depending on what you want, need and have coupons for.
Unfortunately, this weeks Go Points deals leave a lot to be desired.
Here are the items participating in this offer:
Here are your deals at Stop & Shop Beginning 11/26:
This List Has Expired
This week's Stop & Shop Go Points Preview
More Ways to Save at Stop & Shop
---
More Stop & Shop Deals You'll Love: