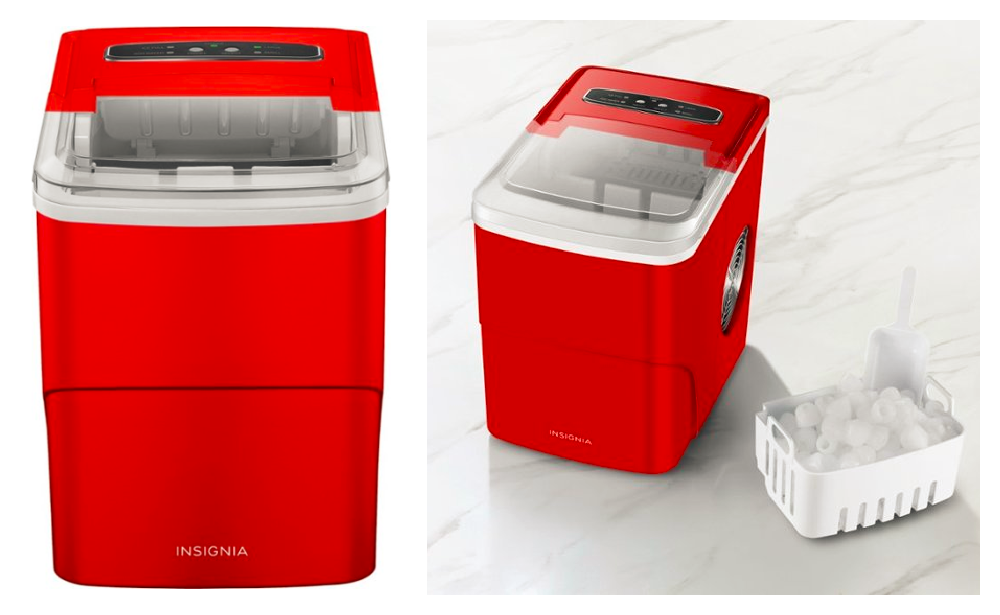 WOW look at this price at Best Buy and available today only!

Right now you can get the Insignia™ – 26 Lb. Retro Portable Icemaker with Auto Shut-Off in Red for only $89.99 (Reg. $125.99) at Best Buy
Also available in Mint color for $99.99
$35+ orders ship for free or choose free in store pickup.
Here is a description of the product:
You'll never run out of ice with the Insignia NS-IMP26RD2 26 Lb. Retro Portable Icemaker with Auto Shut-Off. Producing up to 26 lbs. of ice per day, this icemaker stores up to 1.5 lbs., supplying all the cold drinks at a large gathering. It creates ice every 6 to 13 minutes and has two cube size options you can choose from, depending on your drink of choice and glass size. It has a large 2.1-quart water tank that recycles melted ice, so you can refill it less often. An electronic control panel with indicator lights make this portable icemaker easy to operate. Match the icemaker to your kitchen décor or add an interesting pop of color with a cherry red that will attract all your guests. Become the best party host with a portable icemaker that keeps up with the drinks and your guests' expectations.
Two cube sizes
Enjoy small .25 oz. ice cubes and large .32 oz. ice cubes to fit various glass sizes.
Produces up to 26 lbs. (12 kg) of ice per day
Lets you stock up for your next get-together.
1.5 lb. (.7 kg) storage capacity
Gives you plenty of ice for any occasion.
Auto shut-off
Ensures ice production stops when the bin is full to prevent overflow.
Removable basket and ice scoop
Gives you easy access to your ice.
Quick production cycle
Creates ice every 6 to 13 minutes to keep you supplied with fresh ice.
Large water tank
Holds up to 2.1 qt. (2 L) of water.
Self-recycling water system
Automatically uses water from melted ice to make new ice.
Electronic control panel with indicator lights
Makes using this icemaker simple and straight-forward.
Cherry red design
Gives your kitchen a pop of color.

---
For Even More Awesome Online Deals