ShopRite.com has gotten a Make Over!
The ShopRite website never seemed to be totally user friendly and has gotten a make over! Now, each store location has been completely refreshed!
The app has not been updated yet – when you go to teh app it will send you over to the website now.

Your ShopRite Account – Password Reset!
When the site is updated you will have the same exact account with the same e-mail. You will just need to reset your password. If you are having trouble logging in – just reset your password!
Here is how to reset your password:
Select your store & Sign In
On the Sing in page select Forgot your password
Enter your ShopRite Account Email Address
You will get an email with a password reset link
Follow the link to reset your password
Check out what's NEW:
---
New Welcome Screen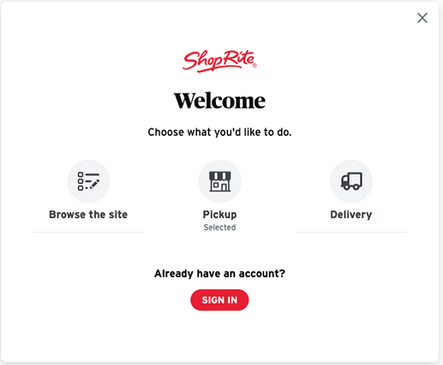 When you log into ShopRite.com you'll immidietly get a new welcome screen so you can choose how you'd like to shop and sign in. The choices will be, Browse the site, Pick up or Delivery!
---
Simple Navigation Bar

Everything you need to navigate through ShopRite.com will be on the new navigation bar in the header and footer. Everything in one place is a thumbs up from me!
---
New Weekly Circular View
I know we get the ShopRite Ad to you super early – but if you wanted to check it out on ShopRite.com for the current week they are making it way easier! You can clip digital coupons here too!
---
Updated Product Pages
Looks like we'll be able to search for products at ShopRite way easier from now on!
---
Simplified Reserved Timeslot
This one is HUGE! This feature always gave people trouble! ShopRite has a whole new interface for your grocery pick up order! If you love shopping this way this is a game changer!
Check out our ShopRite match ups to get the deals before you reserve your pick up time!
---
Easier Checkout
This new one stems from the reserve yoru pick up time! Check out will be way easeir now! You can allow substitutions and get more information all on the checkout page!
---
How does this new ShopRite website look to you? Learn More about it here!
More Ways to Save at ShopRite
---
More ShopRite Deals You'll Love: