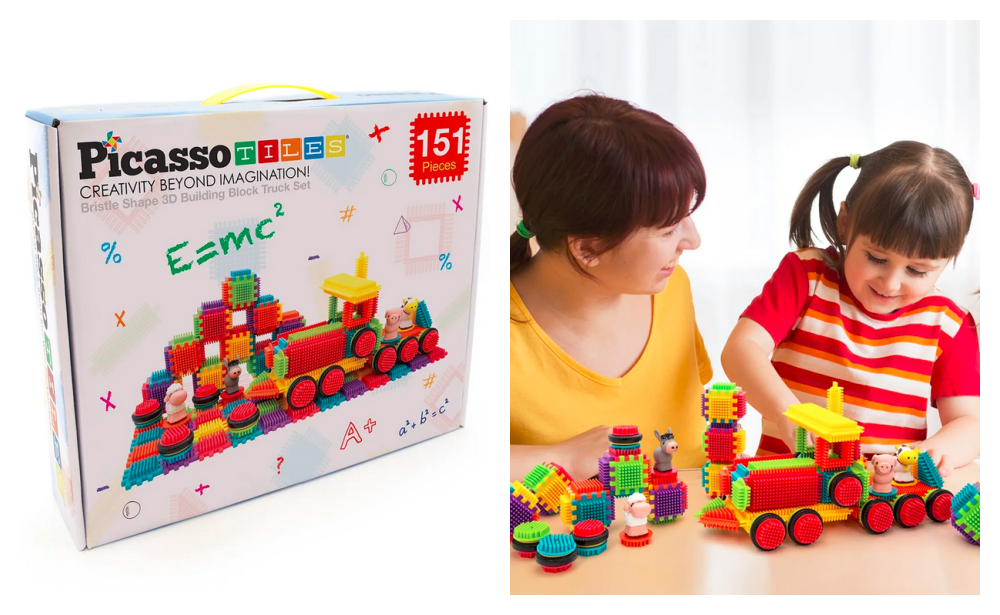 These are so much fun with STEAM learning!
Get this PicassoTiles Farm Truck Bristle Block Set | 151 Pieces for only $28.99 + Free Shipping at Jane.com (reg. $119.99)
Product Description
PicassoTiles is a fun "shape building" set that immerses children (and creative adults) into crafting 2D and 3D art, which will put a smile on those who appreciate creative & active learning.
Frustration-Free Building: 
PTB151-TRUCK offers easy connectivity and simple to disconnect to maximize fun and build more creative designs. PTB151-TRUCK enables children to improve hand-eye coordination, gain a strong sense of color, counting, sorting, attention, and focus by using their hands to foster Science, Technology, Engineering, and Math skills.
High-Quality Pieces: 
Each piece of PTB151-TRUCK is manufactured by high-quality material with the highest standards to ensure the safety of the children.
Educational Toy: 
Never too early to start developing a kid's creativity. Children can acquire a strong sense of color, structures, geometrical shapes including 3D forms, numbers counts, & architectural design at an early age.
Learning Is Fun: 
Encourage creativity for STEM education which is the key factor to success in today's ever-changing environment. Fun and entertaining; perfect educational present for school-age children that will never go out of style.
Fun For Everybody: 
PTB151-TRUCK encourages children and/or families to work together as a team to design their dream farm. Entertaining for single or multiple parties and feel the sense of achievement of building together.
Features:
PTB151-TRUCK are soft, rubbery, interlocking bristles that stick together at any angle makes it easier to build.
PTB151-TRUCK provides a good way to develop children's creativity at a young age. Your children can acquire a strong sense of color, geometrical shapes, & architectural design.
PTB151-TRUCK bristle shape block set has different brightly colored pieces that provide kid's endless building possibilities.
PTB151-TRUCK bristle shape block set can build different objects such as a car, a house, a robot. The most amazing thing is that kids can build a completed farm.
PTB151-TRUCK bristle shape block set includes different figures like pig, cow, donkey, and sheep.
Product Details
STEAM learning
For age 3 years & up
BPA & lead free

---
For Even More Awesome Online Deals