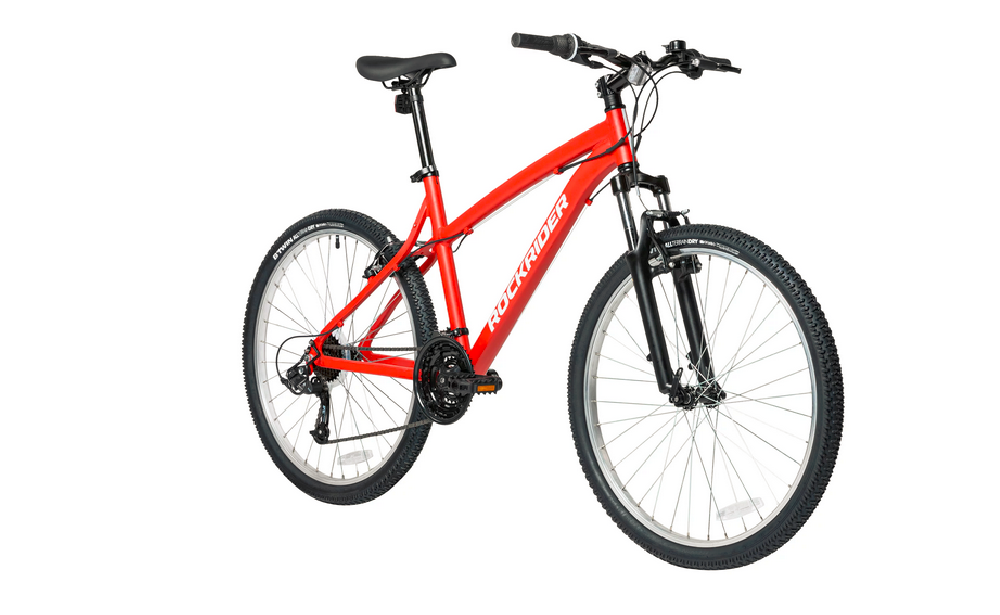 Looking for your first Mountain bike and are ready to go on to the bike trails, here's another great bike!
Get this Decathlon Rockrider ST50, 21 Speed Aluminum Mountain Bike, 26″, Unisex, Red, Small for just $84 Shipped at Walmart | Reg: $348
MIXED FRAME
The frame of the ST50 mountain bike is unisex.
Studied down to the smallest detail, with a fairly marked sloping (inclination of the upper tube), over a fairly wide range of sizes, the frame of the ST 50 mountain bike is not only light, but it is also versatile.
LIGHT FRAME
100% aluminum: the frame of the Rockrider ST50 mountain bike has been designed in aluminum to combine strength and lightness. Thus, your pedaling is more efficient.
Its "sloping" type geometry makes it easier to step over for both men and women.
FRONT SUSPENSION
The 80mm front suspension lets you overcome your first obstacles with peace of mind on slightly uneven trails.
Its mechanical spring is a guarantee of reliability. Above all, the fork is easy to maintain.
For hardness adjustment? It is very easy thanks to a simple wheel.
REAR SUSPENSION: NONE
This mountain bike has no rear suspension.
It is a so-called "semi-rigid" mountain bike: ideal for starting and getting started on your first mountain biking tours.
Faced with a "full suspension" mountain bike (with a rear suspension), the interest is simple: the mountain bike is lighter; you lose less energy on flat ground.
DERAILLEUR & TRANSMISSION
3 plates of 7 speeds, that is to say, 21 speeds!
2 rotating handles that are easy to handle.
SADDLE
The saddle attachment (welded) of the ST 50 prevents any movement of the saddle during your ride.
And because your comfort is our priority, we offer you an exclusive ERGOFIT saddle, wider, with a profile in the shape of a "hammock".
Easily adjust your saddle height with the 350mm long, 29.8mm diameter steel MTB seat post.
V-BRAKE SKATE BRAKES
Brake effectively thanks to the 2 V-Brake type pad brakes.
These brakes are made up of 2 calipers equipped with pads that exert a more or less strong pressure on the rim to slow down or stop the rotation of the wheels.
Thanks to the specific design of the ST 50's aluminum brake levers, only two fingers are sufficient to brake.
Check the wear of the pads once a year. If the streaks disappear, go to your store's workshop.
26″ WHEELS & DRY TERRAIN TIRES
With its lightweight 26-inch single-wall wheels, you can easily get started on mountain biking trails.
DRY 26 x 2.0 tires are the most suitable for hiking on dry terrain. The central part is very rolling, while their side crampons provide good grip in turns.
Obstacles, wheelies, skids, small jumps? For your safety, wheels with "double wall" rims (more resistant) will be more suitable.

---
For Even More Awesome Online Deals