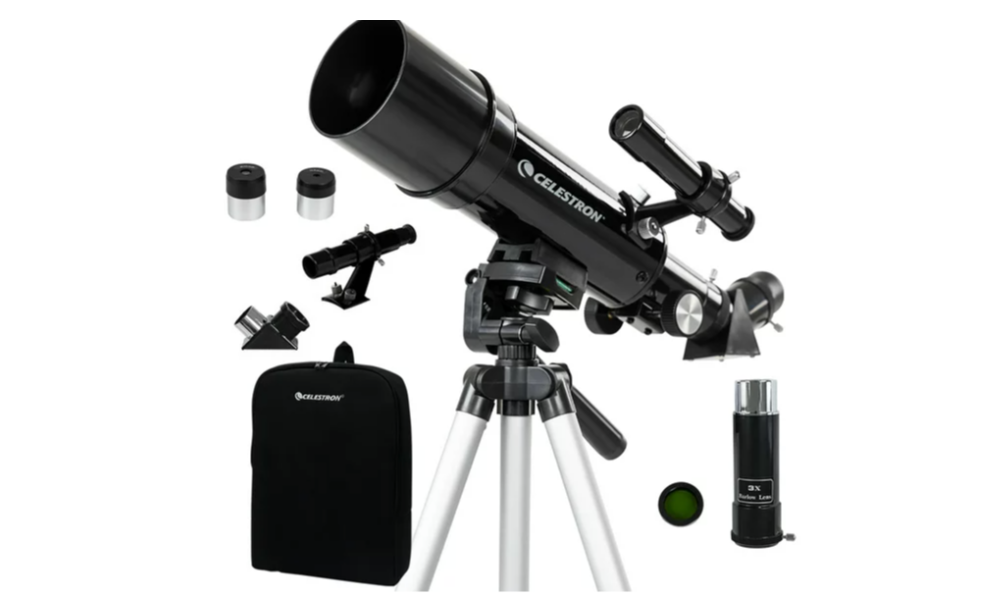 Great price if you need a gift for the budding astronomer!
Celestron Travel Scope 60 Portable Telescope with Backpack and Tripod at $38 (Reg.$99.99)
Orders of $35+ ship free.
Designed with American innovation for beginner stargazers, the Celestron Travel Scope 60 is a professionally engineered refractor telescope that is perfect for celestial or terrestrial viewing on the go. It's the ideal telescope for adults and kids to use together with its fully-coated, high-quality glass optics, including a refractor-style 60mm objective lens. The optical coating on the lens allows more light to enter, providing sharper, crisper views of celestial and terrestrial objects during the day or at night. This Celestron telescope for beginners is designed with several features that make it exceptionally user-friendly. We've included two quality eyepieces (20mm and 8mm), a 3x Barlow lens, and a star diagonal for crisp low- and high-power viewing during the day or at night, allowing you to enjoy close-ups of wildlife in nature or stargaze with family and friends. The Celestron Travel Scope 60 assembles in seconds with no tools required. It's easy to use to navigate the sky. When your observing session is over, everything packs up into the handy included backpack. Your purchase also entitles you to a FREE download of Celestron's BONUS Starry Night Astronomy Software with information on thousands of celestial objects, printable sky maps, and more. It's the best way to learn about the night sky and plan your next observing session. Celestron is the world's #1 telescope brand, with telescopes in world-class research observatories and even aboard the International Space Station. Now your family can enjoy a quality Celestron telescope in a portable package and at a price to fit your budget.
The Celestron 60mm Travel Scope features a powerful 60mm objective lens, a full-height tripod, bonus accessories, and a custom backpack to carry it all.
This telescope for astronomy beginners is equipped with two high-quality eyepieces (20mm and 8mm) for low- and high-power views of celestial objects at night and terrestrial objects during the day.
The 60mm objective lens with high-quality, fully coated glass optics provides bright, detailed views.
Setting up and using the Travel Scope is quick and easy.
Includes a 3x Barlow lens to triple the magnification of each eyepiece for up to 135x total magnification.
This kit comes complete with a custom backpack, tripod, finderscope, star diagonal, and Moon filter. Also includes a FREE download of one of the top-rated astronomy software programs.
Unbeatable warranty and customer support from the world's leading telescope brand, based in California since 1960. You'll also receive a two-year warranty and unlimited access to technical support from our team of US-based experts.

---
For Even More Awesome Online Deals