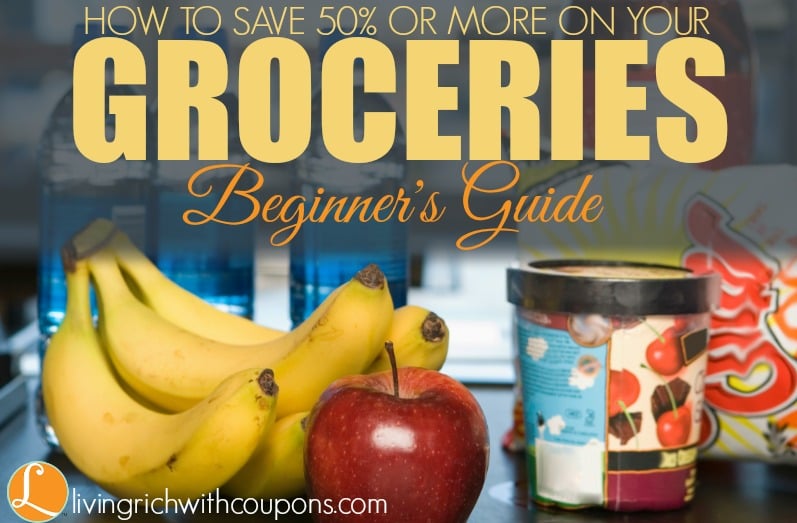 Beginners Guide to Using Coupons
Welcome to Beginners Guide to Using Coupons brought to you by Living Rich With Coupons.
Note: Here is a quick tip page about everything you'll read about in detail on this page!
Here you will learn the right way to become a Strategic Shopper and  Couponer and be able to save anywhere from 50 – 90% on your grocery bill.  The LRWC version of "Extreme Couponing" is NOT by clearing shelves, having your stockpile take over your house, using unethical couponing practicing or by spending 1/2 your week preparing your shopping trip.  We are "EXTREME COUPONERS" because we can save an extreme amount of money by using legitimate couponing methods, keeping a conservative stockpile of items that can pack our pantry or fit onto an extra shelf or two.  And, we buy what we need for ourselves, our family and our donations without clearing shelves in the supermarket.  All from only a few extra hours work a week.
Tons of Living Rich With Coupons readers have saved thousands of dollar each year by using these easy coupon strategies.  All it takes is a little time, organization and you will be able to stock your pantry for so much less.
We have five sections below to help you get started.  Click the links below to bring you to the section you are interested in reading about.


Step-by-Step Guide to Saving Money on Groceries
Step 1: Four Easy Steps to Get Started
Get started with this basic 4 step method of saving at the grocery store.
Step 2: Coupon Lingo
Learn the couponing terms to make it easier to understand match ups.
Step 3: Import Facts About Coupons
Here is a list of important facts you should know before you begin couponing.  Learn how to tell if a coupon is fraudulent or how many coupons you can use on an item.
Step 4: Organizing Your Coupons
Learn different methods for keeping your coupons organized and ready to score some deals.
Step 5: How to Cut Your Grocery Bill
Check out these 5 easy ways that you can cut your grocery bill.
Step 6: Guide to Grocery Sale Cycles – Getting the Best Prices
Learn when frozen foods will be at their lowest or when you should stock up on paper goods or pancake syrup. View the Guide to Grocery Sales Cycles for all the best prices
How to use LivingRichwithCoupons.com to help you save
1. Saving Resources Page
Use our Saving Resources page for the many tools we have put together to help your couponing a breeze.
2. Ask questions
That is a must. If you don't understand something, ask. We are all here to help. Leave it in the comments, check out the Frequently Asked Questions post or send me an email by clicking on the "Contact" tab in the navigation bar.
3. Use the Coupon Database
There is an awesome Coupon Database on the site which will help you find most coupon available. There are printable coupon, insert coupons, magazine coupons as well as Cellfire coupon.
4. Check out the Store Deals
Make sure to check out all the store coupon match ups we have available to help you save. Go here or use the "Store" tab in the menu above to find the national stores or a store near you. You can click on the "Preview Tab" to find the deals coming up for the following week.
5. Sign up for a FREE LRWC Plus account
When you sign up for a LRWC Plus account, you can save multiple shopping lists making it even easier for you to stay organized.
Watch Cindy explain how the LRWC plus account works
6. Store Coupon Policies
Make sure to print out a copy of the different store coupon policies. It's best to always bring a copy with you when you are shopping.
7. Grocery Price Comparison Tool
Use our Grocery Price Comparison tool to check local prices on items you need. Also works great for price matching.
9. Sign up for Free Daily Emails
You can sign up by store or for our All Deals email.
10. Connect with Like Minded Couponers
We have a ton of Facebook Groups you can join to chat couponing at your favorite stores.
11. Donate from Your Stockpile
Once you have strategic shopping down and your pantry is full, please consider making a Couponing for a Cause donation to your local food bank.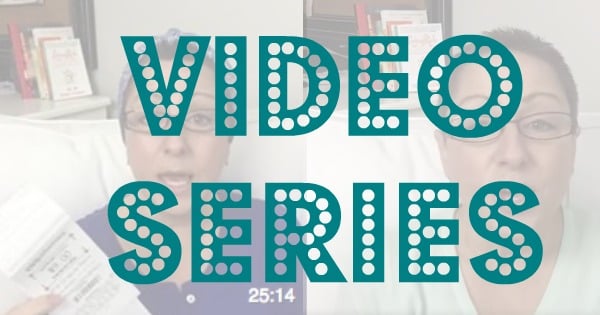 View The Video Series
BUY THE BOOK
Step Up Your Savings
Now that you know the basics of how to save at the grocery store.  Check out these 6 ways to step up your couponing game to save even more.
1. Catalina Deals
Catalina Deals are some of the best ways to save.  Learn what Catalina Deals are and how to use them for the most savings. Watch Cindy Explain What A Catalina is and How They Work
2. Drug Store Deals
Drug stores are a great place to save when you take advantage of their store rewards programs.  These programs are very similar to how the catalina deals work.  Be sure to check out the posts below to find out how to save at the Drug Store CVS 101:  How to Save at CVS CVS is a great place to start to learn how to save at the grocery store.  Check out this informative video of a typical CVS shopping trip.   Walgreens 101: The "Secret" Rules and Great Deals Learn the "Secret" Rules and how to get the best deals at Walgreens.
3. Rebates
Find out how to take advantage of Rebates and why they are worth your time.
4. Money Saving Apps
There are so many ways to save.  One of the newest ways to save is with a ton of new Money Saving apps that allow you to save in store or as a rebate.  Have a smartphone? You'll want to take advantage of these savings.
5. Price Matching
Check out this list of stores that offer price matching
6. Rain Checks
What are the benefits of getting rain checks?  Find out ways rain checks can help you save

Tips & Tricks to Help You Save
There are so many different tips & tricks to help you save.  Scan through our many posts on the different tips and tricks to help you to coupon like a pro.  Or, you can view the various articles we have posted here:
Coupons:
Organization:
Money Saving Tips:
Catalina Deals
Stockpiling:
Getting Started Couponing:
Tips to Keep You Sane:
Finances:
Misc:
Make it your hobby, make it a way of life.   But most importantly, make it fun.  And you too will be Living Rich with Coupons.