How to Use Dawn Powerwash
I'm a recent convert to Dawn Powerwash.I've of course heard how great it is – but I've never used it! I recently had to clean Mia's Watertable after the winter and I thought I'd try Dawn Powerwash – guys… it was the easiest thing EVER! I will use it for everything for now on!

I thought I could put together a list of some things you can use it for! (out of the norm). We know you can basically clean any pot/pan/dish with it – but there are MANY other ways to use it!
Buy Dawn Powerwash on Amazon Here!
Check out our Amazon Store Front!
Here are ways you can use Dawn PowerWash:
1. Kids Water Table/Toys
Anything that gets yucky from being outside – clean it with Dawn Powerwash. I promise it will take away the yuck! Sometimes you need to let it sit – but it works!
 2. Shoes
Spray it on the shoes – especially sneakers (the white part) and scrub! Then throw it in the washing machine (if your shoe is machine washable of course!
3. Oven
This is more common – but the oven is a tough place to clean! Spray and let it sit! Wala!
4. Window Tracks
The forgotten space! Quickly wipe that area clean and make it sparkle!
5.  Stained Clothes
Spray the stain and let it sit then wash the clothes! (test your clothing first to be sure)
Buy Dawn Powerwash on Amazon Here!
6. Stainless Steel
Finger prints GONE!

7. Outdoor Furniture
Outdoor spaces naturally get yuck!
8. Glass Shower Doors
If it's a tougher water stain – let it sit!
9. Bathtub
Imagine how much you won't have to scrub!
Buy Dawn Powerwash on Amazon Here!
10. Carpet Stain
test your carpet first – but this works!
11. Airfyer or Toaster Oven
Take out the crumbs – then clean these food spaces! (unplug first)
12. Outdoor Grill
The grill grates get grimey! Try this!
13. Sink
Any type of sink can be cleaned with this!
Buy Dawn Powerwash on Amazon Here!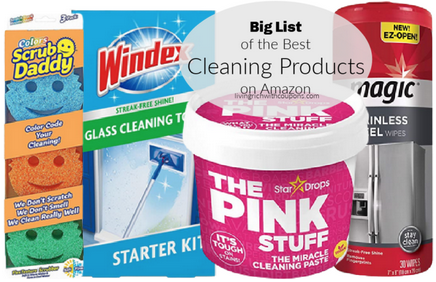 Love cleaning products? Here is our big list of the BEST cleaning products!

Love to cook? Check out some Recipes on LRWC: