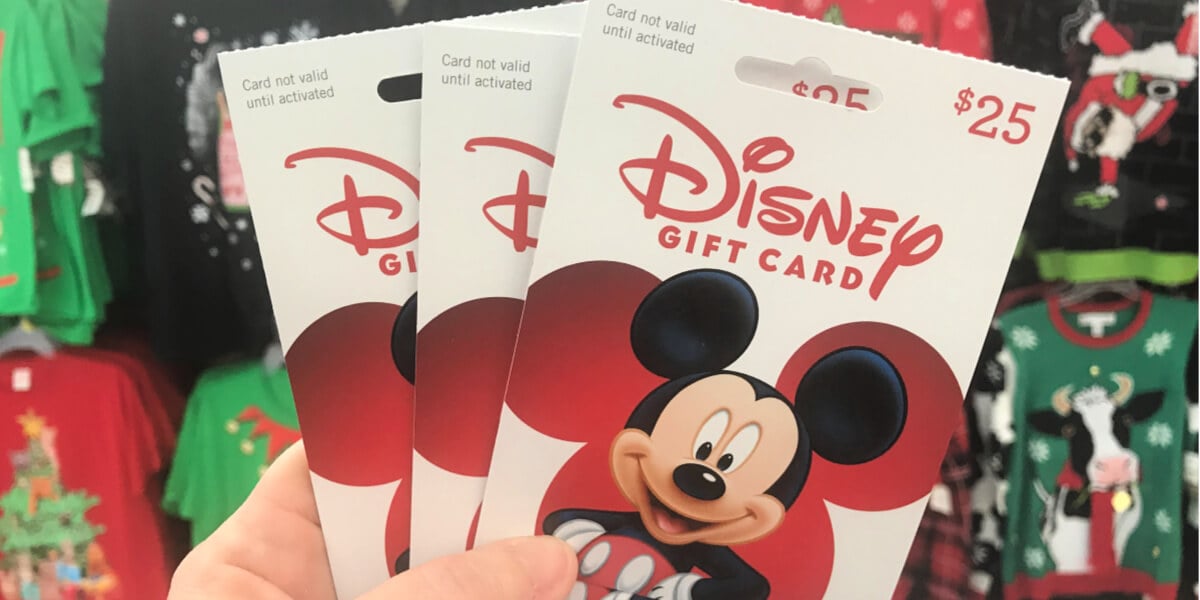 Disney Gift Card
Ah – the gift of a Disney Gift Card. Always a family, friend, cousin, parent…everyone favorite! (If you bought one for yourself I wouldn't tell 😉 )
So, you might be wondering – can I find deals, how do I get them, how does it work!? That's where we come in:
Does Disney World Accept Gift Cards
Disney World accepts all Disney Gift Cards! A lot of families will stock up on them and use them for everything in all of the parks!
Disney Gift Cards can be used on:
Admission tickets
annual passes
resort hotel rooms
spa service
merchandise
dining
recreation
theme park parking
How do I get a Disney Gift Card?
ShopDisney.com Has Gift Cards for Sale:
Choose a physical Gift Card and get Free Shipping to any US address.
Choose a Disney eGift Card and get quick delivery to any valid email. Perfect last minute gift!
Both Gift Cards are available in $25 increments up to $150 plus the denominations of $200, $250, $300 and $500. They are redeemable at ShopDisney.com, Disney Stores, Participating locations at Walt Disney World Resort in Florida.
Tons of Retailers like:
Target
Walmart
Best Buy
Walgreens
CVS
Rite Aid
Costco
and more
How do I redeem a Disney Gift Card?
Click the Gift Card & Rewards Link
Enter your Gift Card Number
Where can I find Deals?
Ebates has cash back all the time!
Check Out the Best Deals on Our Site!
---