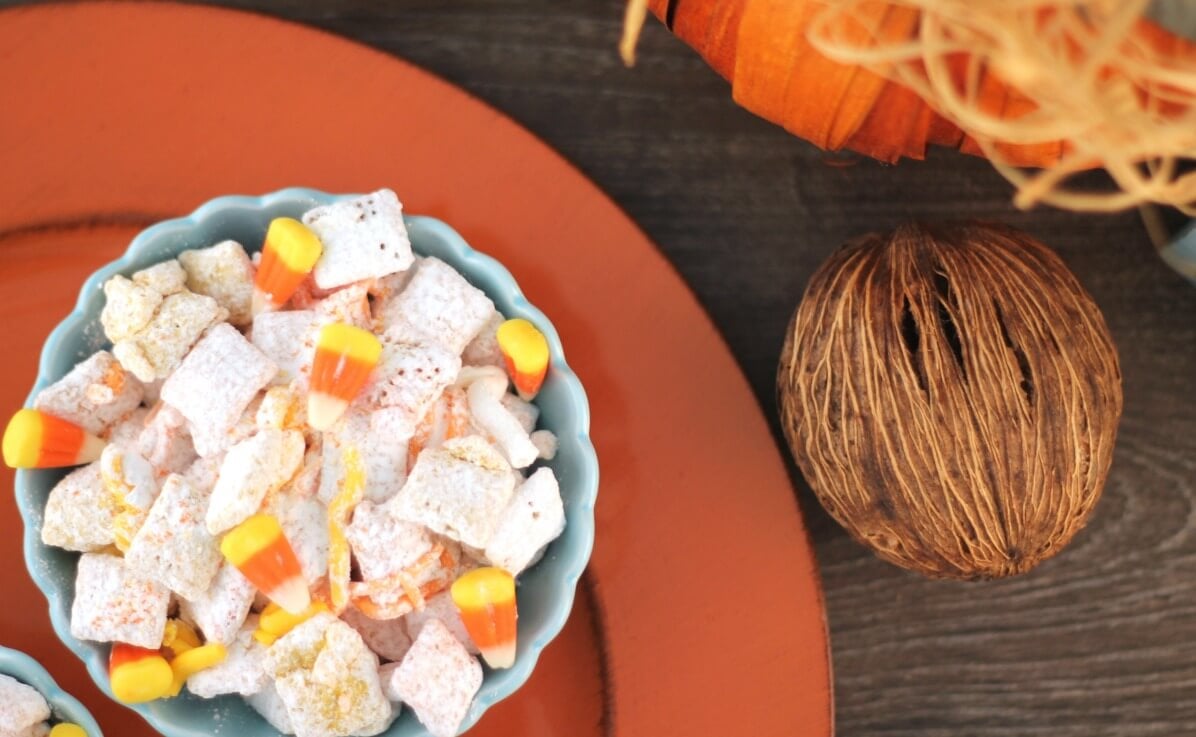 Fall Muddy Buddy Recipe
Get your candy corn ready because this Fall Muddy Buddy Recipe will be the hit of your Halloween parties. I mean, what kid (or adult) doesn't love a good muddy buddy? What's not to like, guys?!
This recipe is super easy and even great for your kids to help with.
You'll need just a few ingredients including:
Chex Cereal
Yellow and White melts
powdered sugar
Yellow & Orange Sugar Sprinkles
You'll also need a microwave safe bowl, wax paper, cookie sheet and ziploc bags.
Your first step is to melt one of the candy melts. You'll be melting one at a time and mixing the melted candy with the Chex mix. See the recipe below for details.
A tip on melting candy melts in the microwave…make sure to microwave in increments of 30 seconds and stir in between so you don't burn the candy.
Then add the powdered sugar and the coordinating colored sugar sprinkles to a Ziploc bag. Then add the Chex cereal and coat with the powdered sugar.
Spread the coated Chex cereal on a piece of wax paper on a cookie sheet and let dry.
Repeat the steps with the rest of the candy. Once it's all coated and dry, combine all into one large bowl.
Add candy corn, maybe some chopped up candy melts and of course you can even add some small pretzels if you'd like.
Candy Corn Muddy Buddy Recipe
Who doesn't love a great Muddy Buddies Recipes. This one will be perfect for your Halloween parties.
Instructions
Place 1/3 cup of Yellow candy melts in a microwave safe container. Microwave at half power for 30 seconds, remove container and stir. Repeat this process until all candy is melted. (Be sure to check it regularly, candy will burn in the mircowave if you let it cook too long)

Add 2 cups of Chex cereal into a bowl. Once candy is completely melted, pour the melted candy into the bowl with the Chex cereal. Fold until all Chex cereal is coated. (This process may take a few minutes, but the melted candy will coat the Chex cereal)

Place 1/4 cup of powdered sugar in a gallon ziplock bag and add 1 tablespoon of Yellow sugar sprinkles. Mix well.

Remove candy coated Chex cereal from bowl and put into gallon ziplock bag with powdered sugar and Yellow sugar sparkles. Seal the bag and shake well to coat.

Line a baking tray with wax paper, pour the muddy buddies onto the tray evenly.

Repeat steps 1-5 with but this time melting the Candy Corn. In step 3 add the orange sugar sprinkles to the powdered sugar.

Repeat steps 1-4 but this time melting the white melts. Note: leave out step 5. You do not want Yellow or Orange sugar on the white pieces!

Allow the muddy buddies to dry completely before combining.

Once dry, combine all the coated chex cereal in a large bowl. Add embellishments (Candy Corn pieces) if desired. You can even shave or chop up a few candy corn to add smaller pieces to the bowl if you'd like or chop up some of the colored melts to ad as well.

**Store in an airtight container
Nutrition Facts
Candy Corn Muddy Buddy Recipe
Amount Per Serving
Calories 321
* Percent Daily Values are based on a 2000 calorie diet.
---
Currently Trending on LRWC