What to Cook in August

August is a great month to cook with corn, beans, eggplant, pepper, avocado and much more.  Here is a full list of Produce in Season for August:
Beans
Corn
Cucumber
Eggplant
Figs
Okra
Onion
Pepper
Tomatoes
Avocado
Berries
Grapes
Melons
Peaches
Plums
Raspberries
During the month of August you will also find sales on Back to School Lunch Type Items such as snack foods, bread, juice boxes andm ore.

1. Eggplant Pizza



I am a huge fan of Eggplant and a huge fan of pizza so this is a win win in my book!  Get the recipe.

2. 5-Minute Healthy Peach Frozen Yogurt



So refreshing, so delish!  Get the recipe.

3. Slow Cooker Corn on the Cob



6 healthy, easy, no-butter flavors, with or without foil. Get the recipe.
4. Gazpacho Soup



If I had to list my five favorite foods, Gazpacho would be in that list..  Get the recipe.
5. Chili Lime Sweet Corn Salad



This salad is Sweet, spicy, tangy, crunchy, creamy.  Get the recipe.
6. Cucumber Salad



A great, go to recipe for any family gathering. Get the recipe.
7. Fig Butter



If you love fig newtons you will adore this butter.  Get the recipe.
8. Chicken Salad with Grapes



Nothing better than adding grapes to your chicken salad. This recipe is delish! Get the recipe.
9. Tomato, cucumber, avocado salad



I was sold when I saw Feta Cheese was in it. Excuse me why I go make this salad.  Get the recipe.

10. Raspberry Crisp



Oh my. I'm drooling over this picture.  Get the recipe.

11. Melon Sangria



Look purty, tastes yummy. Drink responsibility! Get the recipe.

12. Chicken, Avocado, Bacon Panini

Bacon and avocado…oh my.  Get the recipe.
13. Avocado Ranch Dressing



Creamy, lowfat and delish! Get the recipe.
14. Lemon Orzo Salad with Asparagus and Tomatoes



A perfect combo of ingredients for the summer. Get the recipe.
15. Pesto, Mozzarella, Baby Spinach, Avocado Grilled Cheese Sandwich



Excuse me while I go make this! Get the recipe.
16. Plum Fruit Leather



I have to admit, this looks pretty yummy! Get the recipe.

17. Peach Salsa



I love salsa…any kind! Get the recipe.

18.Peach Cobbler



So easy and so good.  Get the recipe.

19. Baba Ganoush



If you love Eggplant then you must try this! Get the recipe.

20. Quinoa Stuffed Pepper



These is a healthy, yummy alternative to beef stuffed pepper. Get the recipe.
Guide to Grocery Sale Cycles – Getting the Best Prices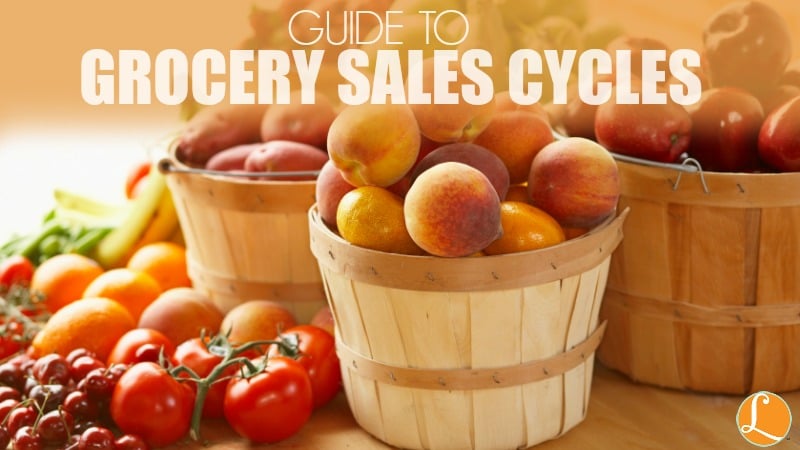 Knowing when products will be at their lowest prices and combining them with coupons allows you to stock up until the next great sale rolls around.
Here is a list of what's on sale for each month of the year.
Table of Content: