What to Cook in May

May is a great month to cook with Strawberries, Artichokes and much more.  Here is a full list of Produce in Season for May:
Okra
Zucchini
Rhubarb
Artichokes
Asparagus
Spring Peas
Broccoli
Lettuce
Green Beans
Beets
Carrots
Strawberries
Blackberries
Raspberries
During the month of May you will also find sales on Snacks, Hamburger and more!
1. Spinach Artichoke Pizza

Make your own Pizza! Recipe!

2. Roasted Lemon Pepper Salmon and Garlic Parmesan Asparagus
One Pan meals are the best kind of meals! Especially this one! Try this recipe.

3. Mexican Zucchini Boats
Healthy, Fun Dinner! Check this recipe out!
4. Beetroot & Feta Cheese Salad
Easy and delicious! Try it out!
5. Parmesan Zucchini Corn

Side dish or lunch! Get it here!
6. Three Cheese Chicken & Broccoli Alfredo

My mouth is watering. Get the recipe.
7. Strawberry Pecan Pretzel Salad
This is a new creation to the world of pinterest! Get the recipe.
8. Okra Parmigiana

How different! Get the recipe.
9. Blackberry Ricotta Pizza with Basil
So Different! Get the recipe.

10. Coconut Rhubarb Cake

So unqiue!  Get the recipe.

11. Sparkling Raspberry Lemonade


Refreshing! Get the recipe.

12. Smoky BBQ Carrot Dogs
What! Love this! Get the recipe.
13. Carrot Apple Bread

Yum! I'm trying this one out! Get the recipe.
14. Broccoli Gratin

Dinner is served! Get the recipe.
15. Spring Pea & Asparagus Risotto
2 Veggies in 1 dish! Get the recipe.
16. Roasted Carrot Ginger Soup

So so yummy! Get the recipe.

17. Artichoke Dip Stuffed Bread

How fun!! Get the recipe.

18. Bacon Wrapped Asparagus

So easy and so good.  Get the recipe.

19. Tuscan Roasted Asparagus

My favorite side dish! Get the recipe!

20. No Churn Mango Ice Cream

Yummy! Get the recipe!
Guide to Grocery Sale Cycles – Getting the Best Prices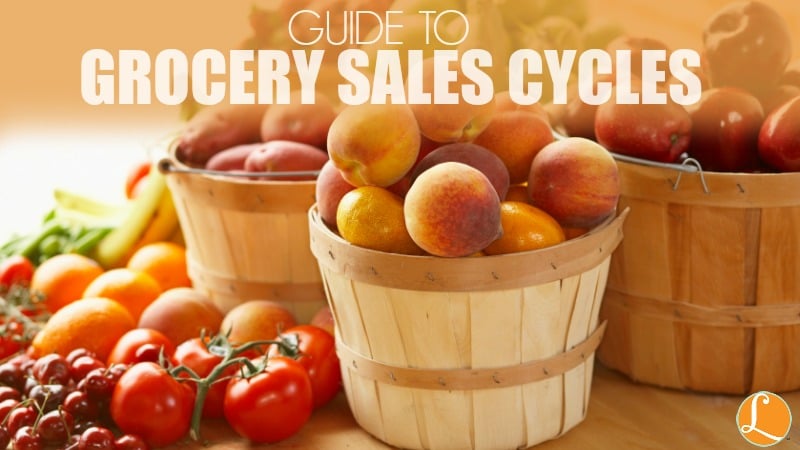 Knowing when products will be at their lowest prices and combining them with coupons allows you to stock up until the next great sale rolls around.
Here is a list of what's on sale for each month of the year.
Table of Content: