What to Cook in June

June is a great month to cook with Watermelon, Summer Squash and much more.  Here is a full list of Produce in Season for June:
Corn
Cucumbers
Eggplant
Red Onions
Summer Squash
Sweet Vidalia Onions
tomatoes
Apricots
Blackberries
Blueberries
Cherries
Grapes
Honeydew
Nectarines
Peaches
Raspberries
Straberries
Watermelon
During the month of June you will also find sales on Chips, Soups, Eggs and more!
1. Watermelon, Strawberry & Tomatillo Salad

Refreshing! Recipe!

2. Simply Skillet Zucchini & Yellow Squash
EASY! Try this recipe.

3. Slow Cooker Chicken Burrito Bowl

Healthy, Fun Dinner! Check this recipe out!
4. BBQ Chicken Quesadillas
Easy and delicious! Try it out!
5. Cucumber Cream Cheese Sandwich

Lunch Time! Get it here!
6. Watermelon Salsa

My mouth is watering. Get the recipe.
7. Strawberry Pecan Pretzel Salad
This is a new creation to the world of pinterest! Get the recipe.
8. Apricot Turnovers

Desert! Get the recipe.
9. Blackberry Ricotta Pizza with Basil
So Different! Get the recipe.

10. Apricot Dijon Glazed Salmon

So unqiue!  Get the recipe.

11. Sparkling Raspberry Lemonade


Refreshing! Get the recipe.

12. Tomato Eggplant Zucchini Bake with Garlic & Parmesan
What! Love this! Get the recipe.
13. Grilled Peaches & Cherries

Yum! I'm trying this one out! Get the recipe.
14. Mexican Street Corn

Oh YUM! Get the recipe.
15. Pressed Pesto & Eggplant Sandwich
Delish! Get the recipe.
16. Creamy Grape Salad


So so yummy! Get the recipe.

17. Cheese Grape Pistachio Truffles

How fun!! Get the recipe.

18. Peach Crisp

So easy and so good.  Get the recipe.

19. Strawberry Frozen Yogurt

SO Good! Get the recipe!

20. Copycat Chiopotle Corn Salsa

Yummy! Get the recipe!
Guide to Grocery Sale Cycles – Getting the Best Prices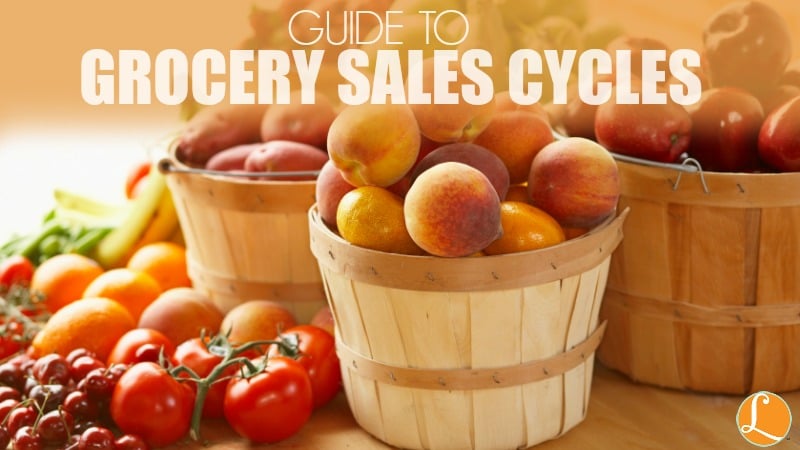 Knowing when products will be at their lowest prices and combining them with coupons allows you to stock up until the next great sale rolls around.
Here is a list of what's on sale for each month of the year.
Table of Content: