What to Cook in November

November is a great month to cook with Sweet Potatoes, Brussel Sprouts, Cranberries and much more.  Here is a full list of Produce in Season for November:
Beets
Bok choy
Broccoli
Brussel Sprouts
Cabbage
Carrots
Celery
Chard
Kale
Leek
Mustard Greens
Parsnip
Potato
Sweet Potato
Winter Squash
Turnip
Yams
Pears
Cranberries
Kiwi
Lemons
Orange
During the month of November you will also find sales on turkey, Stuffing, Broths & Coffee
1. Balsamic Beet Salad with Argula

Oh my goodness, this looks so good. I'm so making this soon!  Get the recipe.

2. Balsamic Roasted Brussel Sprouts
If you haven't tried them. You're missing out. Try these with this recipe.

3. Slow Cooker Sweet Potato Soup with Maple Bacon
Umm, hello, it has bacon in it. Nuff said. Get the recipe.
4. Cranberry-Orange Scones
Sounds like I'm making these for a holiday party! Get the recipe.
5. Brine a Turkey Recipe

If you don't cook your turkey this way. You should.  Get the recipe.
6. Kielbasa and Cabbage Skillet

My mouth is watering. Get the recipe.
7. Roasted Root Vegetables with Tomato & Kale
A yummy dish for a cool fall night.  Get the recipe.
8. BBQ Chicken Pizza with Sweet Potato Crust

Sweet Potato Crust? YUM! Get the recipe.
9. Apple, Almond, Bacon & Brussels Sprouts Salad

Fresh, Crunchy and delicious. Get the recipe.

10. Kale, Turnip & Turkey Sausage Soup

So many great fall ingredients in one big, hot bowl of delicious soup .  Get the recipe.

11. Homemade Cranberry Sauce


Perfect for Thanksgiving Day. Get the recipe.

12. Butternut Squash Fries


They are fries people..fries.  Get the recipe.
13. Mashed Turnips with Bacon & Chives

Bet these will be a hit! Get the recipe.
14. Pear Almond Steel Cut Baked Oatmeal

Breakfast for dinner! Get the recipe.
15. Kale & Quinoa Minestrone
Make this for the week! Delicious and easy! Get the recipe.
16. Skinny Broccoli Salad

So so yummy! Get the recipe.

17. Sweet Roasted Beets with Herb Citrus Dressing

If nothing else, the colors are beautiful in this dish! Get the recipe.

18.Garlic Parmesan Roasted Broccoli

So easy and so good.  Get the recipe.

19. Chicken Broccoli Alfredo

So easy, so cream, so simple to whip up! Get the recipe.

20. Broccoli Cheese Soup

This is not just any Broccoli Cheese Soup recipe.  It's the best one around. Get the recipe.
Guide to Grocery Sale Cycles – Getting the Best Prices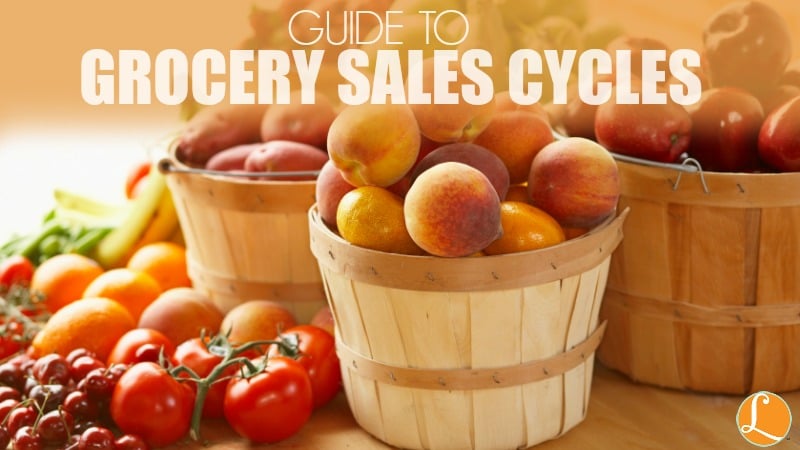 Knowing when products will be at their lowest prices and combining them with coupons allows you to stock up until the next great sale rolls around.
Here is a list of what's on sale for each month of the year.
Table of Content: