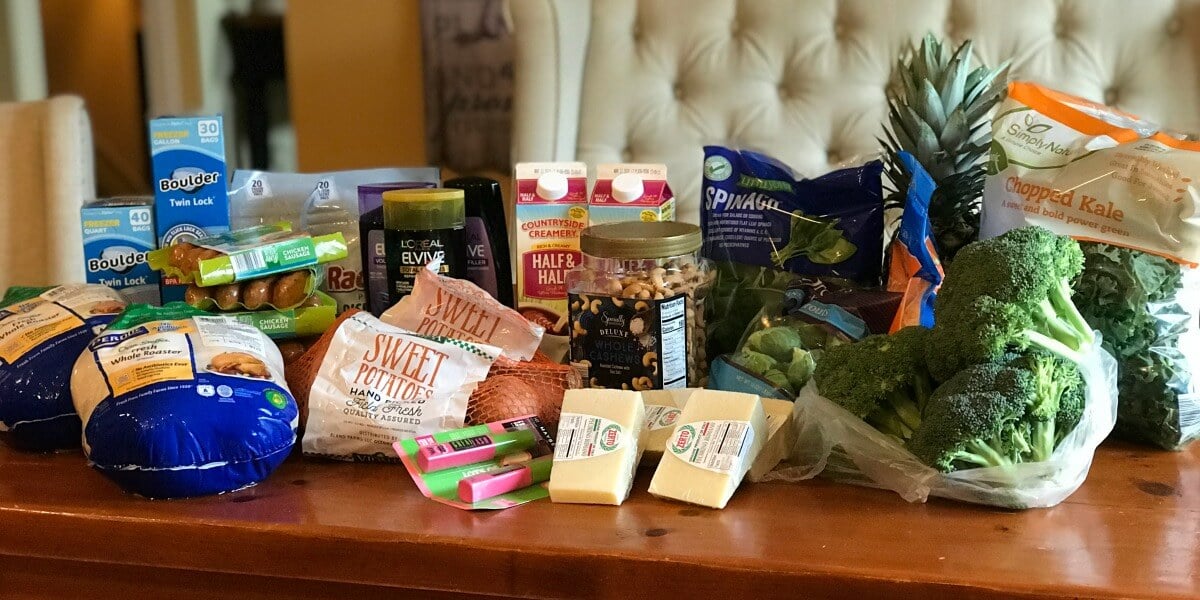 Zero to Stockpile
Finally, I'm feeling like I'm somewhat back to normal since I started the Zero to Stockpile Challenge two weeks ago. Well, really a week and a half ago, but since I'm basically done with my shopping this week, I'm counting it as a full week.
I loved this week because I was able to focus on some of the "luxury" products we like to have like the Kodiak Cakes, Romano Cheese, Cashews and more. I say luxury because last week, I couldn't imagine fitting those higher priced items into my shopping. I needed to buy so many staple food items just to put food on the table.
This week, with so much of those food basics stocked up already, I felt a bit better about spending the money on those higher priced items we love.
However, even though they are "luxury" items, I still searched out the best prices and stocked up on them, if I could.
For instance, that Pecorino Romano Cheese…oh my, that price! It was the highlight of my week. That type of cheese runs around $11.99 – $15.99 per lb. When I saw that price, of $5.99 per lb,  I knew I needed it in my life. So much so that, when I realized I had $9 left this week, I thought of going back for more before the sale ends on Thursday.
In case you are wondering, and don't follow me on Instagram (I share all this kind of stuff there), I put chunks of the cheese in my small food processor and grate it, with the regular blades, until it's a fine powder consistency.  Heaven!
Anyway, back to my progress….
As you can see below, my freezer is really getting stocked up. I need to focus on some more beef and ground turkey for there.
My pantry is looking awesome as well. There I need some more HBA products but I have no worries about that. They are so easy to come by. As a matter of fact, I am feeling pretty good about being able to use my money to start working some deals that I can continue to roll in future weeks.
The first week, and part of this week, I didn't really feel like I could put out some money (remember I started with no store rewards) to start working some deals. Even if the deal was free after store rewards, I still needed to pay out of pocket. I just didn't have the cash to do that since I really needed food!
But now, I plan on working more deals, like the deals I did at CVS this week. Baby steps!
As far as my temporary $200 budget goes, I honestly feel like, after next week, I am really not going to need the full $200 and will start to see my regular weekly spending start to decrease. If that happens, like I think it will, it will show how that stockpile is already starting to work for me by controlling how much I need to pay for my groceries.
That my friends, is truly Living Rich With Coupons!
Hope you had a great week building your stockpile. Let us know how you did below in the comments.
My Budget Tracking
Here is what I bought and how much I spent. You can see my progress by viewing the following documents:
If you are unsure, why I increased my budget or why I donated my entire stockpile, you can read more about that here.
Monday Shopping Trip
---
Pictures of My Current Stockpile
Updated after this shopping trip!
Top left: Paper Goods
Top Right: Beauty Products (left side)/Cleaning Products (right side)
Bottom Left: Food
Bottom Right: Freezer
Tips to Follow My Journey
Follow me on my Instagram account where I post, via my IG Stories, all my day to day!
Join our Zero to Stockpile Facebook Group.
Sign up for the Zero to Stockpile Newsletter
Challenges You May Have Missed
---
More Hot Deals You Don't Want to Miss: