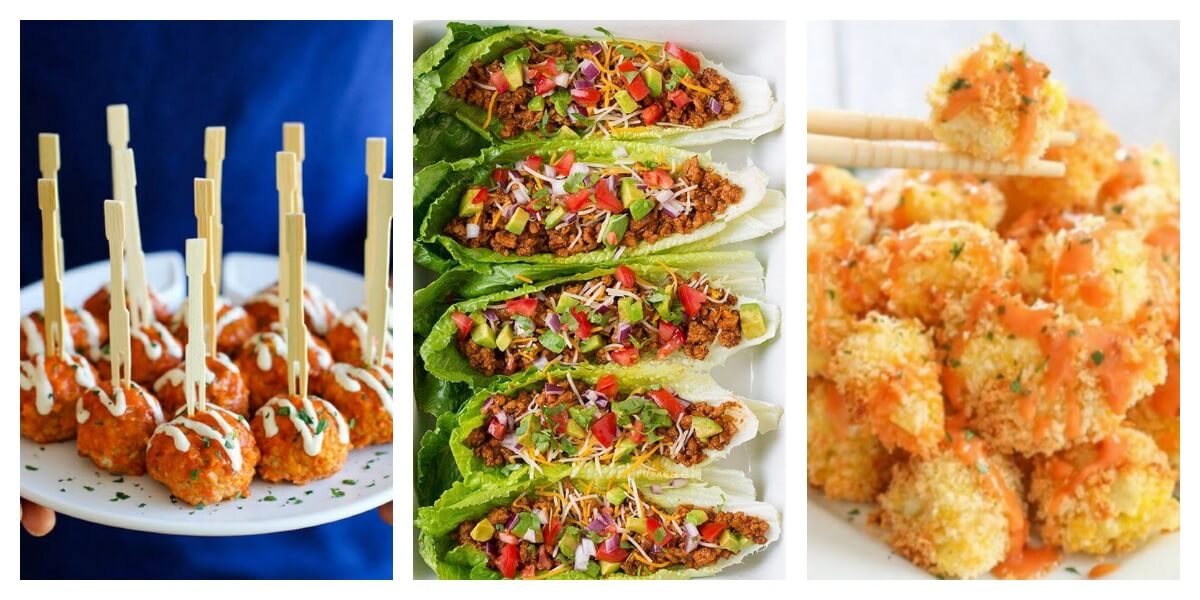 Super Bowl Snacks –
These Superbowl Snacks are Healthy AND Easy AND Delicious! What more can you ask for! Surprise your guests this Superbowl (or anytime of year)
1. Healthy White Bean Avocado & Cilantro Dip

I'm making this! Try it out too!
 2. Turkey Taco Lettuce Wraps

Did someone say Tacos?! Try these out!
3. Slow Cooker Buffalo Chicken Meatballs

Sounds like a hit! Make them here!
4. Skinny Green layer Dip
This looks delicious! Could be a new staple at my parties! Get the recipe here!
5.  Bang Bang Cauliflower
Spicy Cauliflower coming right up! Check it out!
6. Baked Garlic Parmesan Potato Wedges
DIY french fries 🙂 Recipe here!
7. Healthy Turkey Chili
Chili is a Super Bowl staple! Make this one!
8. Buffalo Quinoa Bites
Anything buffalo! Check it out!
9. Chocolate Covered Strawberry
Who doesn't love these! Recipe here!
10. Baked Pickle Chips
My favorite app…baked 🙂 Recipe here!

11. Sweet & Spicy Sriracha Baked Chicken Wings
Yummy Wings for the game! Recipe!
12. Skinny Baked Zucchini Chips

Chips…but veggies too. Check it out!
13. Oven Baked Onion Rings

Healthier Onion Rings! Sure thing! Check out this recipe!
14. Spicy Pineapple Chicken Kabobs


Easy Peasy and delicious! Make it!
15. Grilled Shrimp with Roasted Garlic-Cilantro Sauce
Seafood…enough said. Get the recipe.
16. Ultimate Turkey Burger Sliders
Turkey Burgers for the win! Recipe here!
17. Reduced Guilt Spinach & Kale Greek Yogurt Dip
Dip! Of course! Check it out!
18. BBQ Chicken Cobb Salad
Salad is healthy all the time 🙂 Recipe here!
19. Healthy Yogurt Fiesta Dip
Healthy dip for the win! Check it here!
20. Chocolate Lovers Brownies
Brownies with avocado! Amazingly good!