My Extreme Couponing Stop & Shop Trip
Once I realized how great the Dairy Instant Savings deal was at Stop & Shop, I had to take advantage of it.  I have a bunch of coupons that I had been printing and saving so I decided this deal was the best for the coupons that I have.  I'll be doing this deal or one similar to it a couple of times this week.
Here is what I did:
1 8th Continent Soymilk $2.50
2 Smart Balance Milk $2.50 each
4 Oikos Greek Yogurt $1.25 each
-(1)$2/1 8th Continent Soymilk
-(2)$0.75/1 Smart Balance Milk
-(2)$0.50/2 Oikos Yogurt
-$5 Instant Savings
Paid: $0.50 for everything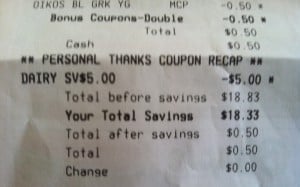 Yes, I did do a happy dance! 🙂
Make sure you check out all the items in the Stop & Shop Dairy Instant Savings deal as well as other deal idea.  The rest of the Stop & Shop match ups will be up shortly.