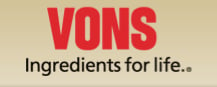 Vons Deals for the week of 6/22
Here are your Vons deals for the week thanks to Save at Home Mommy.
Friday only- Naturipe Sweet Blueberries, 2/lb – $5.00
Fresh Foster Farms Chicken Breast Halves- $.97/lb
Fresh Express Lettuce Trio, Green & Crisp Romaine, Green & Crisp Double Carrots or Shreds- $.99 each
Lucerne Butter, 16oz- $2.99 with in ad coupon
Sweet Red Seedless Grapes- $.99/lb
Breyer's Ice Cream 1.5qt, Popsicle Novelties, Klondike Novelties, Magnum Novelties, or Ben & Jerry's or Starbucks Ice Cream Pint- $2.49 with in ad coupon
no limit specified
Use $1.00/1 Ben & Jerry's Pint from 6/12 RP or
Use $1.00/1 Magnum Ice Cream from 5/22 RP or
Use $.75/1 Starbucks Ice Cream from HERE or
Use $1.00 off Breyers Blasts HERE
Final Price= as low as $1.49
Nature Valley Granola Bars – $2.50
Use $.50/2 from 5/1 or 5/22 SS
Final Price= $2.25 each when you buy 2
There is also a current Catalina Promotion through 7/10- Buy 3, get $1.00, Buy 4 and get $2.00 or Buy 5 or more Nature Valley products, get a $3.00 Catalina coupon to use on your next purchase.

Try This:
Buy 5= $12.50
Use (2) $.50/2
Out of Pocket= $11.50
Get back a $3.00 catalina coupon
Final Price= 5 for $8.50 or $1.70 each
You can check out the rest of the Vons deals here.