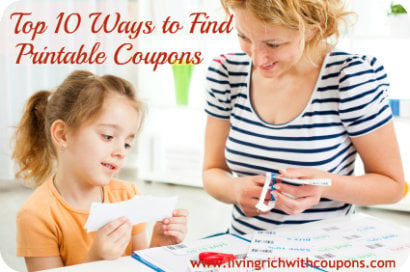 Top 10 Ways to Find Printable Coupons
Living Rich With Coupons is our motto and finding coupons is our game.  We find them, you use them and everyone saves.  But, where do we find them?  Ah, that's the secret.  Searching for coupons is just the start of the fun of saving.  Sometimes they are in plain site and sometimes they are hidden.
Here are our Top 10 Resources for finding the best Printable Coupons out there.
1. Top Printable Coupon Website
The number one resource for coupons are some of the top coupon websites.  These websites hosts coupons from major brands and some may even update them every day.  Here are the most popular sites but be sure to check the full list on our Printable Coupons page.
2. Target.com
Target is a great source for Target Store Coupons but did you know that you can also get Printable Manufacturer Coupons on the site as well?  The questions is always, how can you tell which coupon is a manufacturer coupon and which is a Target Store Coupon.  There is a simple way to tell.
Manufacturer Coupons:  In the description look for the words "When You Buy" followed by the product information as shown in the first image on the left.
Target Store Coupons:  In the description look for the words "with purchase of" followed by the product description as shown in the center image or look for just the product description as shown in the third image on the right.
3. Mambo Sprouts
Mambo Sprouts is a great source for printable coupons for all natural, gluten free or organic products.  The coupons are powered by the same technology as Coupons.com so once you have downloaded the printing software for Coupons.com, you can print from Mambo Sprouts.
4. Brand Facebook Pages
Another great source for manufacturer Printable Coupons is directly from the Brand Facebook pages.  There are thousands of grocery brands on Facebook so, although it is impossible to follow every brand out there, find the brands you use most and "like" their page.  Companies will usually promote new or redesign products through their Facebook pages and, we find this avenue a top source for the higher value printable coupons.
5. Sign Up for Newsletter for Your Favorite Brands
Be sure to sign up for newsletters from your favorite brands.  Again, as we mentioned about the Facebook pages, there are thousands of grocery brands.  Choose 10 – 20 brands or products that you use a lot and get on their mailing lists.  Many times companies will send out exclusive coupons that are only available to subscribers which means we can not share links on the website to share with our readers.
6. Brand Websites
You found a great sale at your local stores, you've checked Coupons.com, our Coupon Database and can't find coupons for the products in the sale.  Well, don't forget to check the brand's website.  Sometimes coupons are not always located on the front page of a website so look around and see what you can find.  You never know, there could be coupons hiding out there.  Or, better yet, find their customer service email on the site and shoot them an email and ask if there are any links for printable coupons.
7. Ads
If you are visiting grocery store pages, deal blogs (like Living Rich With Coupons) or similar type websites, keep your eye out for ads.  There have been many great printable coupons that are found through advertisements online so be sure to keep an eye out for them.
8. Grocery & Drug Store Websites & their Facebook Pages
Many of the grocery stores have printable coupons on their websites.  These coupons are usually the same coupons found on Coupons.com however, many times they will get exclusive manufacturer or even store coupons that are not available on the regular Coupons.com pages.  We have found some great coupons on some of the following grocery & drug store websites:
CVS.com
Hannaford.com
Walmart.com
Bi-Lo
9. Master List of Bricks Coupons
Did you know that there is a running list of Printable Coupons powered by Bricks technology?  What is Bricks Technology?  Good question!  It's the printing technology that is used by Coupons.com.  Many manufacturers use this technology to promote their coupons through the various methods stated above.  There is a list of most (not all) of the latest Printable Coupons currently available using the Bricks Technology.  This is also referred to as Bricks Coupons.
10. Subscribe
Of course, if you don't want to go through all those resources above, you can simply subscribe to Living Rich With Coupons FREE email newsletter to get all the daily coupons delivered right to your inbox.