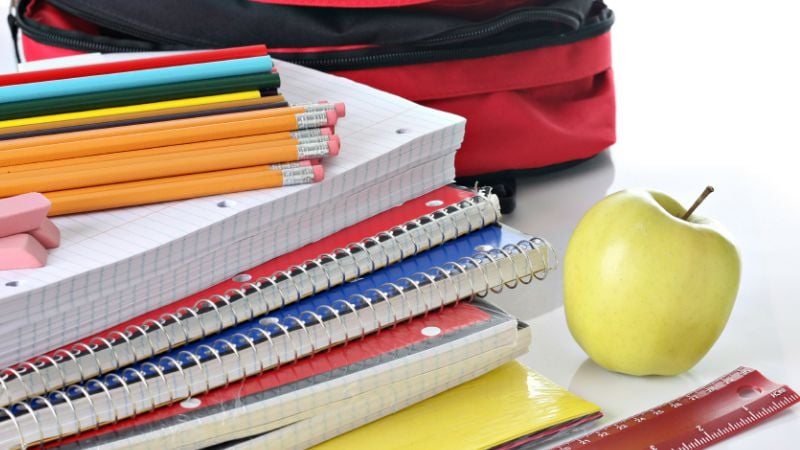 Top Money Wasters Back-to-School Edition: K-12 Essentials
For any dedicated saver, the back-to-school season is second only to the holidays when it comes to potential deals and bargains. When it comes to big ticket electronics purchases, and specifically computers, the month of August actually features many deals that are better than any other time of year – even Black Friday. But, as with any opportunity for savings, the closely-associated opportunity for waste is also ever present. No doubt students in grades K-12 do need school supplies, but just what supplies they really need is not as expansive as marketers would have you think.
But, every year, people fall for the marketing traps. In fact, the National Retail Federation reports that, in the 2015/16 school year, the average parent of a K-12th grader will spend well over $600 on back-to-school shopping. This roughly breaks down to about $200 on clothes, $100 on shoes, $100 on general school supplies, and $200 on technology and electronics.
Top Money Wasters for K-12 Back-to-School Shopping
Following along with frugal living practices and the age old adage that, sometimes, the best way to save is simply to buy less, it is possible to save money on your back-to-school purchases. This starts with paying close attention to, and eliminating, money wasting items. This allows you to maximize your spending while getting your young scholar all he or she needs for a year filled with success. Here are the four top money wasters for the K-12 crowd:
Every Supply on the List Right Away
Whether there is a general grade level list or a teacher-specific list, pay close attention to redundancies in school supplies and don't be afraid to ask questions about what teachers need, when, and why. For example, many teachers list tissues at the beginning of the year but inevitably end up asking for more halfway through. So instead of buying them now, wait for the next time there is a good couponing deal on tissues (read: fall flu season) and stock up on free or nearly-free tissues and bring them in then. No one needs 22 boxes of tissues in the first month and they will be more appreciated later on anyway.
Pre-Packaged Lunches
There is no denying the convenience of pre-packaged lunches when it comes to the morning rush. However, the price per unit of these things, not to mention many of the questionable ingredients, really diminishes their value. Obviously, if you can get a good deal with sales and coupons and your kids eat everything in the package, then buy them THAT WEEK. But every other week, consider making your own prepackaged lunches on a Sunday night using deli meats, pre-cut fruits and veggies, and other snacks you get on sale. Stock up on lunch packing supplies (i.e. reusable ones) now and then customize your kids' lunches to reduce cost and waste.
Clothing
Kids grow fast and clothing is an absolute necessity, but it, along with shoes, is also a major back-to-school budget buster, especially considering that you are more likely to find big sales after the school year starts. Cleaver, right? If you child needs uniforms, consider buying only a few for the first couple of weeks and then track online and in store sales through September in order to get more variety at maximum savings.
Tablet Computers
This is a list for K-12 students so tablet computers are on the top of the list of unnecessary items, no matter how much begging and convincing your teen or tween engaged in. Here's why: most teachers at the K-12 level do not allow use of tablets in class. If, by chance, they do, students will not have access to Wi-Fi when using it for obvious reasons. Students who claim to want a tablet for papers and research outside of school also need to purchase additional accessories (such as a keyboard and access to word processing program apps) which really increase the price.
General Back-to-School Savings Tips
In addition to avoiding the big-ticket money wasters, there are some general guidelines that parents can use when shopping for school supplies that will help them save money. First, begin school shopping at home by looking through your own stockpile for items like tissues, pens, and paper, as well as searching through your children's stuff for items that didn't get a lot of use in previous years.
It is also smart to spread out your shopping throughout August and September. This not only stretches school shopping in terms of line items on your household budget, but also allows you to take advantage of multiple sales and rebates as they pop up. In addition, reducing the stress of getting "everything" all at once also reduces the likelihood of overspending or impulse spending.
Finally, especially when it comes to clothes, watch out for "tax free" specials. In New York, where I live, there is a state tax on clothing, but only for purchases over $110. Individual counties charge tax on all clothing purchases, but offer "tax holidays" during times like back-to-school. Another alternative is travelling to a nearby state that offers tax free clothing purchases year-round (such as New Jersey in my case).
Getting Ready for School
As both a child and a parent, back-to-school shopping has always been a favorite time of year for me. I love the excitement of a new year of learning and the feeling of a "clean slate." Plus, new stuff is cool, too. However, loving back-to-school shopping doesn't mean I overdo it and you don't need to either.
Next week, we will look at a different type of back-to-school shopping, going off to college. Until then, what tips and money wasters have you found during the back-to-school shopping season?