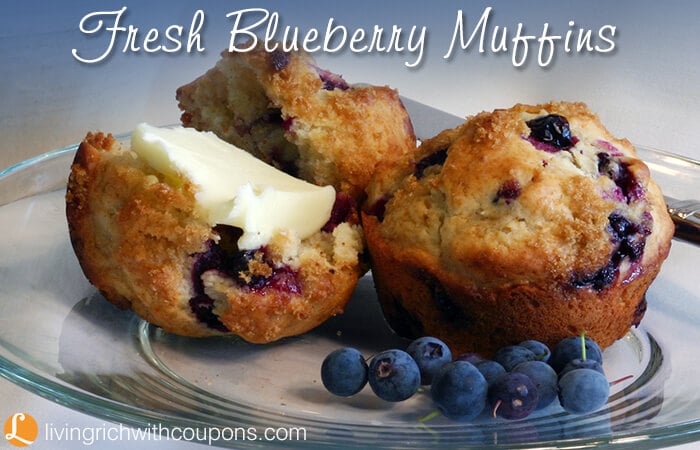 Fresh Blueberry Muffins Recipe
There is nothing quite like freshly baked muffins and with the blueberries in season, you can't go wrong with this recipe.  Have them for breakfast, snack or anytime.  They are delicious!
This recipe is simple to make.  Mix the dry ingredients and liquid ingredients separately, then combine them and add the blueberries!  I told you it was easy!  😉
Fresh Blueberry Muffins
Ingredients:
1 1/2 cups fresh blueberries
2/3 cup sugar
1 1/2 cups flour
1/2 teaspoon baking soda
1/2 teaspoon salt
1/3 cup oil
2 eggs, beaten
1/2 cup milk
cooking spray for the muffin pan
Directions:
1. Preheat oven to 370. Spray the muffin tin with cooking spray.
2. In large bowl, combine sugar, flour, baking soda and salt. In a smaller bowl combine oil, eggs and milk, mix throughly.
3. Combine liquid ingredients to the dry ingredients, mix until they are just blended; do not over mix. Fold in blueberries.
4. Pour the batter into prepared muffin pan so each cup is about 2/3 full. Bake 18 to 20 minutes or until muffins are lightly browned, cooked throughout and cake tester comes out clean.
makes 1 dozen muffins
Enjoy!!
Printable Recipe:
---