Advil Coupon
From 5/05 – 5/11 Stop & Shop, Giant, and Martin will have a great instant savings deal on participating Healthcare items! The deal is Spend $20.00 Save $6.00 Instantly!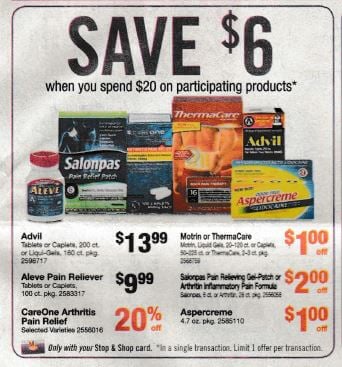 Included in the deal is Advil Tablets or Caplets 200ct., or Liqui-Gels 160ct. priced at $13.99 each. Also included is Alever Tablets or Caplets 100ct, priced at $9.99 each. We have a $3/1 Advil or Advil PM Easy Open Arthritis Cap 120ct +from the 4/30 Red Plum insert, we also have a $2/1 Aleve product 40ct+ excluding d coupon, from the 4/30 Smart Source insert available. We can pick up one of the Aleve Arthritis Cap 200ct, and 1 of the Advil 100ct. use our coupons, receive our instant savings and pay a total of $12.98! Thats only $6.49 each! Nice Deal!
Here is your deal at Stop & Shop, Giant, and Martin 5/05 – 5/11:

This List Has Expired
Stop & Shop, Giant, Martin 5/05 – 5/11
Be sure to check out the rest of the Stop & Shop Deals for the week before you shop.
Save
Save
Save