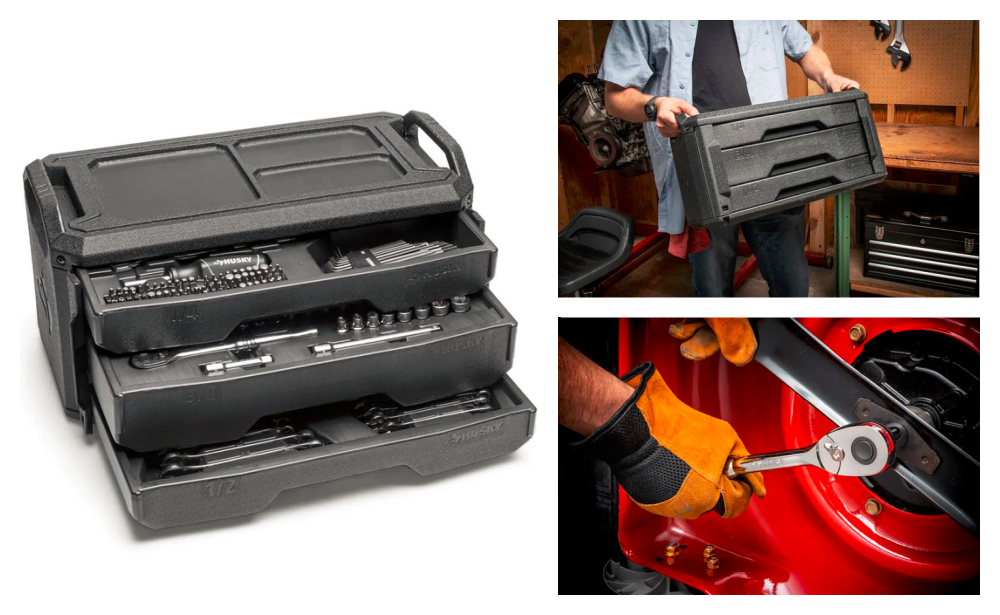 A HOT price on this size tool set! Don't miss this Special Buy!
Grab this Husky Mechanics Tool Set (270-Piece) for only $99 Shipped (Reg. $199) at Home Depot
Description:
The Husky 270-piece 1/4 in, 3/8 in. and 1/2 in. drive Mechanics Tool Set offers a comprehensive selection of tools for the professional or DIY-mechanic's workshop. Packed into a handy storage case with tool trays marked by drive size, the 91 different standard and deep sockets, along with the 10 combination wrenches and 24 bit sockets, will allow you to tackle any fastening or repair project. This Husky 270-piece tool set will provide the novice or professional with a huge assortment of durable and reliable tools to get the job done. 3 ratchets, 66 standard sockets, 25 deep sockets, 4 extensions, 10 combination wrenches, and 162 other tools including bit sockets, hex keys, etc. make up this mechanics tool set. For a complete listing of tools included, see specification document in the info and guides section.
Set includes 1/4 in., 3/8 in. and 1/2 in. 72-tooth ratchets, (49) 1/4 in. drive sockets, (30) 3/8 in. drive sockets, (24) 3/8 in. drive bit sockets, (12) 1/2 in. drive sockets, 4 drive extensions, 10 combination wrenches and 138 other tools
Storage case included with trays marked by drive size
Quick-release button allows sockets and drive tools to be easily removed from the ratchet
Integrated handles and tool tray on top
Trays marked with sizes to keep your tools organized
Tool trays fit into most tool box drawers
Sockets and wrenches are designed with off-corner loading to help prevent rounding of fasteners
Wrenches feature a 12-point box-end design and 15° offset to increase clearance
Bit sockets attach to 3/8 in. drive tools to provide a longer handle and more leverage than standard hex keys or screwdrivers
72-tooth ratchets need only a 5-degree arc swing to turn fasteners
Large, hard-stamped size markings allow for easy readability
Hex keys, screwdriver, and nut driver bits are formed from heat-treated S2 tool steel for added strength and wear protection
Chrome finish provides corrosion resistance and added durability
Backed by a Lifetime Warranty. If your Husky product ever fails, bring it back and we will replace it for free.
Fully polished chrome finish easily wipes clean of oil and dirt
Sockets and wrenches feature chamfered lead-ins that help to provide fast and easy placement onto drive tools and fasteners
Tools are forged from chromium-alloy steel for outstanding durability and strength
---
For Even More Awesome Online Deals