Get the essentials your family needs delivered in bulk by Boxed!
If you've shopped at Boxed.com you know you always get bigger sizes and bigger savings, fast shipping over $49 plus deals and freebies each week!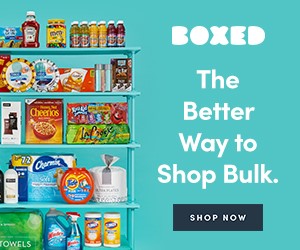 Now with BOXED UP – you can get Free shipping (min $19.98), 2% cash back on every purchase and exclusive discounts just for you! This would normally cost $49/year – but you can try ti for FREE for 30 Days! I think this is worth it just for the lower shipping minimum!
You'll be charged after the 30 days are up and you can cancel at any time.
Boxed.com Products
If you're new to Boxed.com – they have tons and bulk buy items at a super inexpensive price! It's almost like shopping at BJs online and having it shipped to your door! Each month they have discounts and deals and you can also
get 15% off your first Bulk purchase right now using code BULKLIFE
Here are just a few of the sale items happening right now (this can change at anytime):
---
Shop these Hot Online Deals: