Eating healthier throughout the day is made easier when you prep for it ahead of time. This helps avoid impulsively ordering last minute meals meals from restaurants or fast-food restaurants.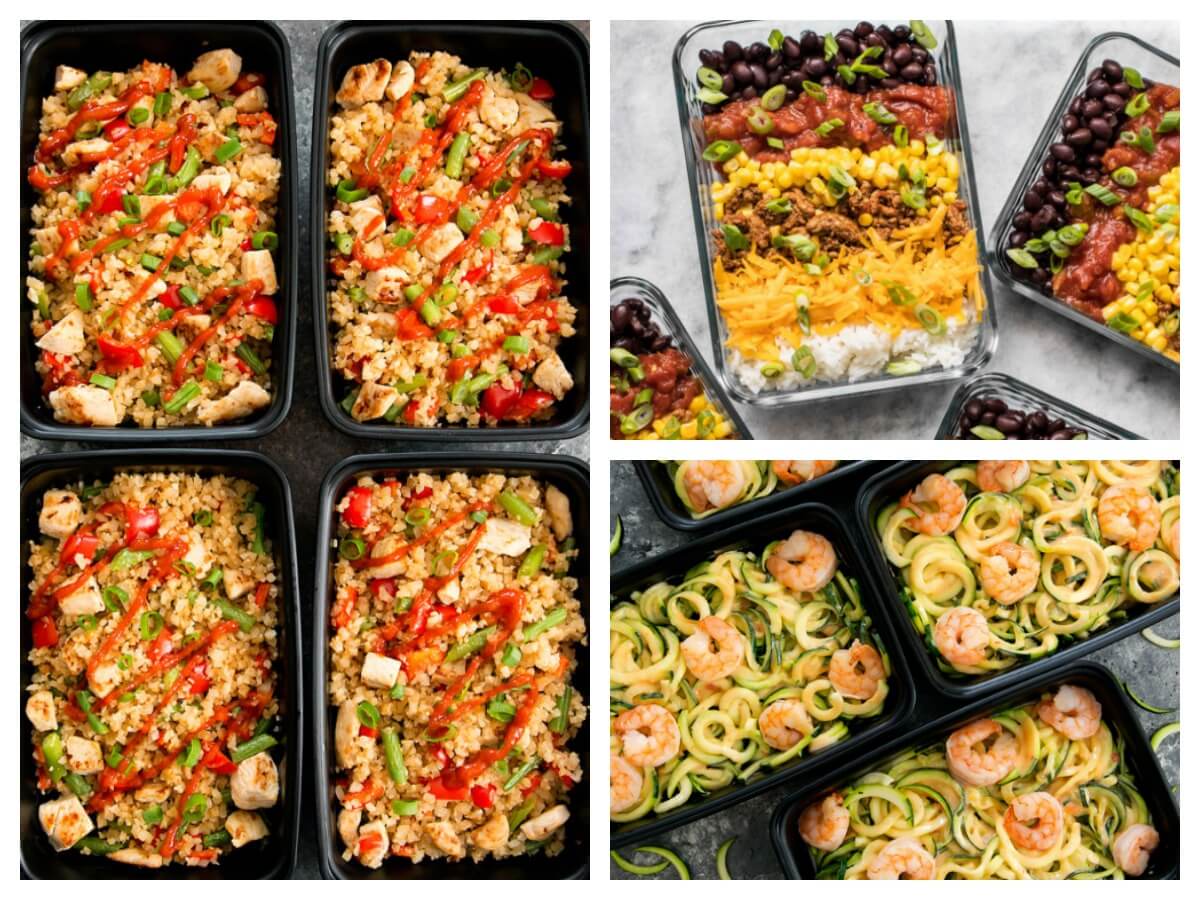 Low Carb Meal Prep Recipes
Here we have 30 different healthy and low carb recipes you can prep ahead and have ready for your week.
The Thai sweet chili sauce makes this yummy meal.
You may also replace the salmon with chicken breast in this recipe.

Put these bowls together in minutes.
Yummy! Can't ever go wrong with sweet plantains.
The delicious peanut butter lime sauce is the perfect addition for this dish..
Replace Mayo with nonfat Greek yogurt to enjoy this guilt free.
Use lean ground beef, turkey or chicken to make this.
Barbecue sauce, pineapple and red onion make for a tasty meal!
The broccoli adds crunch to this not too sweet meal.
Replacing bulgur with cauliflower rice is a brilliant move in this recipe.
Buffalo wing sauce adds a nice zing to this recipe.
I personally wouldn't mind a slice of bacon in these.
Use turkey or Chicken sausage and be generous with the vegetables with this one.
Cilantro lime is basically one of my favorite marinades and the cauliflower rice and beans is genius!
This would also work well with chicken.
You can also replace the mashed potatoes with mashed cauliflower or mashed sweet potato.
For a lighter version cut back on the butter.
The red cabbage salad is the perfect crunchy side for this meal.
So much healthier and cost effective than a trip to Chipotle.
You may also replace the butter with olive oil.
Have you tried making cauliflower fried rice? It's hard to tell the difference from regular fried rice.
Great use for that leftover shredded chicken.
An oldie but always a goodie.
It's got everything you love from a cheese steak sandwich, except the carbs!
So easy to make, although a sprinkle of parm wouldn't hurt it.
Very versatile recipe that allows the use of your favorite cheese and vegetables.
Brown rice or cauliflower rice are a perfect side for this dish.
This recipe uses zucchini instead of pasta. Another alternative is to use roasted eggplant..
The shaved parmesan on top would make this meal for me.
Switch to zoodles to cut back on the carbs.
---
More Lifesaving Ideas You'll Love: