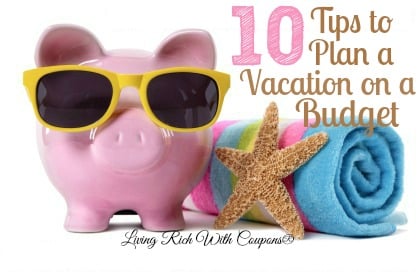 Ways to Save Money with Coupons While on Vacation
With summer approaching that means it's time for vacations!  While some families can easily afford a nice week away and have the luxury of eating out for all their meals while away from home, the reality is many American families can barely afford to get away.  Whether you're headed for a week away at a beach house or spending some time camping in the woods, every family needs to eat while on vacation!.  Here are some tips on how you can have a fun and memorable family vacation while on a budget!
Bring the essentials with you on your trip.  If you're spending a week at a cottage or beach house, you're going to need household items such as bath tissue, health and beauty products, dish soap, etc.  Make some extra room in your luggage for these essentials that you have in your stockpile that you got for cheap using coupons so you don't have to pay full price once you're at your destination.  Also bring non-perishable food items with you such as cereal, bread, canned goods, etc. so you're not eating out 3 times a day.  This will cut down your costs for the week greatly.

Make a list and be prepared.  Think of everything you will need for the vacation and try to bring as much of it as you can from home where you already have the items.  For example, if you're going on a vacation where you will be making some meals, plan the menu for the week before you leave.  You'll be able to bring many ingredients for your meals from home which will save you lots!  We always see coupons for pasta for example so we know we have pasta on hand or can get some for cheap using coupons and the LRWC Grocery Price Comparison Tool.  Pasta is a quick and easy meal that will cost you a fraction of what you'll pay for a meal out with the family!

Research the stores in the area where you'll be on vacation.   No matter how prepared you are, you will undoubtedly need to make a trip to the local grocery store.  Locate the stores closest to your vacationing spot and then check Living Rich With Coupons for the store's weekly Coupon Match Ups.  LRWC does all the hard work for you!  We provide a list of items on sale for that week, locate the coupon and give you a final price, all which can be compiled in a handy printable shopping list!  Prepare your coupons before you leave for vacation for products you'll need to buy once you're at your destination.  If you have a specific item in mind you know you'll need once you arrive use the LRWC exclusive Grocery Price Comparison Tool to see if the item is on sale at a store near you.

Find Restaurant Coupons in the area where you'll be on vacation.  So you're on vacation…you need a break from cooking sometimes!  You can definitely splurge while you're on vacation and eat out but don't do so without a coupon!  Research some restaurants in the area and definitely look to see if there are any coupon offers before you go.  Each week we post a Restaurant Coupon Round Up of some of the best national restaurant coupons for the week so be sure to look there too.

Don't forget the summer basics!  Wherever you choose to vacation you'll probably need some vacationing essentials such as sunscreen, bug spray, etc. It's essential to have car window shades during the summer. Did you know there's probably a coupon for that if you don't already have the product in your stockpile?   This time of the year we see great deals and coupons on summer essentials so never pay full price for these items while on vacation.  Seek out the best deals and search the LRWC Coupon Database well before you head out so you're not paying top dollar while on your trip.
Set up a Summer Savings Account – Throughout the year, take the money you save on your groceries and place in a special summer vacation account.  Saving for a special vacation is a great way to stay motivated on your grocery savings throughout the year.
Find Free Attractions in the Area– Many local historical sites, aquariums, and kid-friendly museums offer free days during the week.  Find information out about these attractions before you leave to see what you can do for completely free.
Kids Eat Free – Stay at hotels that kids eat free.  Also, take advantage of some of the kids eat free restaurant offers.  Larger chains such as Chili's and Olive Garden often have Kid's Eat Free offers during the week which is a great way to save while on vacation.
Buy Discounted Gift Cards – Take advantage of gift cards that others do not want by buying them discounted.  Sites like GiftCards.com and GiftCardGranny.com offer discounts on gift cards for hotels, restaurants and more at up to 20% off the face value of the gift card.
Use Daily Deals Sites in your vacation area:  Sites like Groupon and LivingSocial have deals and offers all across the country.  Not only will you get great deals at local restaurants, hotels and fun activities, it's a great way to get a sense of what there is to do in that area.
Living Rich With Coupons saves you money on groceries and so much more.   Don't go on vacation this summer without using the help of this site which will ultimately help you live a truly "rich" life using coupons!
If you are new to couponing, you may want to check out the Couponing for Beginners section where you will find a lot of answers to your questions.