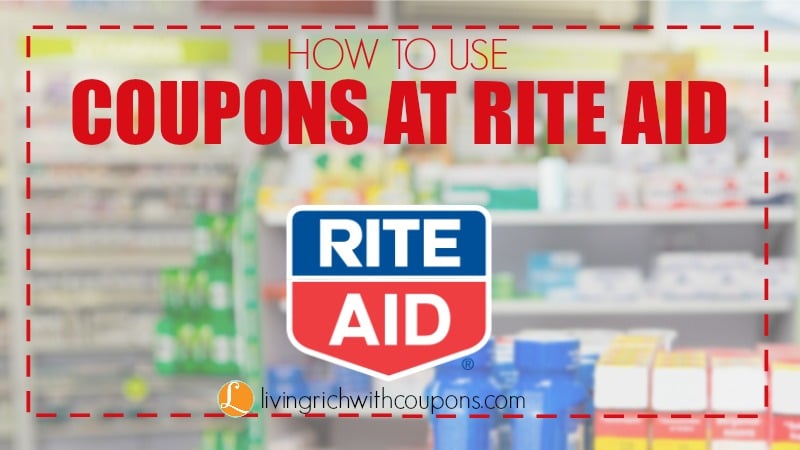 How to Use Coupons at Rite Aid
Rite Aid is a great place to save money using coupons. They have a lot of great rewards programs and there are always great Rite Aid Coupons available.

1. Sign Up for Rite Aid Wellness + Rewards
Rite Aid's wellness+ rewards program ("wellness+") is a free customer loyalty program, operated and sponsored by Rite Aid, which allows participants to earn merchandise credit called "BonusCash" ("BonusCash") by purchasing specific promoted products from Rite Aid® stores or www.riteaid.com.
wellness+ Bonus Cash Rewards are digital coupons earned on participating items and promotions throughout the store and online, loaded automatically to wellness+ or Plenti card only for use in-store or at riteaid.com 6AM day after issuance, and expire after 60 days.
Signing up for the Rite Aid Wellness Card enables you to earn points for different levels of savings as follows:
You still earn points on your Wellness card as follows:
Silver Level (500 points) gives you 10% off your purchases (certain restrictions apply) for an entire year.
Gold Level (1000 points) gives you 20% off your purchases (certain restrictions apply) for an entire year
2. Learn How Wellness + Rewards Work
BONUSCASH
Earning BonusCash
BonusCash will be awarded when you purchase eligible promoted items. wellness+ BonusCash is or will be loaded automatically to wellness+ or Plenti® card only for use in-store or at riteaid.com, beginning at 6AM on the day after issuance. BonusCash for online purchases will be issued after the entire order has shipped. BonusCash will expire 60 days from the date it was first issued.
The products on which wellness+ BonusCash can be earned are determined by Rite Aid, in its sole discretion, and will change from time to time without notice. wellness+ BonusCash cannot be earned from the purchase of tobacco products, alcohol, lottery tickets, gift cards, licenses, money orders, money transfers, newspapers, stamps, other mail services, dairy products, items and services distributed by RediClinic®, items distributed by Moran Foods and Save-A-Lot® Food Stores, prescriptions, or other items prohibited by law, or for the payment of prescription copays, tax or shipping costs(together, "Excluded Items"). You can check your Rite Aid BonusCash balance here.
Redeeming BonusCash 
BonusCash is promotional in nature, has no cash value, and is not redeemable for cash—it can only be applied toward the purchase of eligible merchandise sold at Rite Aid stores and on-line at www.riteaid.com. wellness+ BonusCash cannot be used for Excluded Items or prescriptions (including co-pays). BonusCash cannot be applied to previous purchases, even if on the same day.
You can redeem BonusCash during the checkout process by providing either your wellness+ card or the phone number associated with your account. Although Rite Aid may as a courtesy inform you at check-out that you have BonusCash available for redemption, you may choose to use or save your BonusCash for use on a later date, subject to expiration as described below. Online purchases made with BonusCash will ship in the normal course of business.
Allergy Program
From January 1, 2018 to December 31, 2018, Members can receive $20 BonusCash after spending $75 on qualifying over-the-counter (OTC) allergy products, as part of Rite Aid's wellness+ Allergy program ("Allergy"). To qualify for these benefits, you must have a wellness+ or Plenti card, and register for Allergy in a Rite Aid store (registration is not available online). Allergy accounts will not be activated until after the Allergy member makes a qualifying purchase in a Rite Aid store (not online). Members must be 18 years of age or older to participate in Allergy. To receive the $20 in BonusCash, Allergy members must spend $75 out of-pocket on qualifying OTC products, to be determined in Rite Aid's sole discretion, including Adult and Children's Advil® Allergy, Alavert®, Allegra®, Benadryl®, Claritin®, Flonase®, Flonase Sensimist®, Mucinex Sinus Max®, Nasacort®, Nasalcrom®, Rhinocort®, Xyzal®, Zyrtec®, and Rite Aid® brand Budesonide, Cetirizine, Chlorpheniramine, Diphenhydramine, Fexofenadine, Fluticasone, and Loratadine.  OTC products eligible for Allergy participation also include Alaway®, Clear Eyes®, Opcon-A®, Naphcon-A®, Visine®, Zaditor® Allergy Eye Relief, and Rite Aid® Allergy Eye Relief, Halls®, Luden's®, and Ricola® Cough Drops, Sinex® Nasal Spray, Ayr® Allergy and Sinus Saline Nasal Spray 50 ml, Rite Aid™ Triamcinalone Allergy 120 Sprays and Xlear® Nasal Saline, Benadryl® and Cortizone-10® Anti-Itch and Kleenex® Facial Tissues.  Tax, shipping, Discounts (defined below), Manufacturer Coupons (defined below), and prescription copays do not count toward the $75 threshold.
Please see the Rite Aid Rules Page to learn even more about the Rite Aid Wellness+Rewards program
3. Stack Rite Aid In-Ad Coupons with Manufacturer Coupons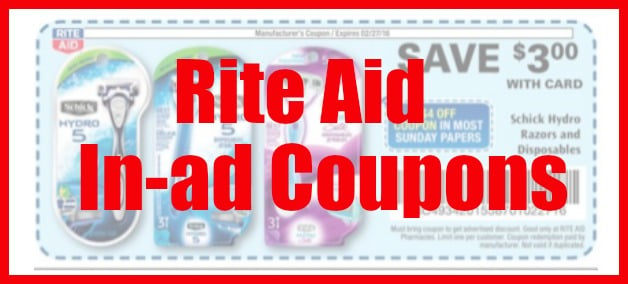 Rite Aid in-ad coupons are found in the Rite Aid Weekly Ad.  The coupons are store coupons even though they say manufacturer coupon on them.  The barcode starts with RC49 and these can be stacked with manufacturer coupons as per the Rite Aid Coupon Policy.
Also, be sure to check the Rite Aid Facebook Page for even more Rite Aid coupons.
4. Tips on using the match ups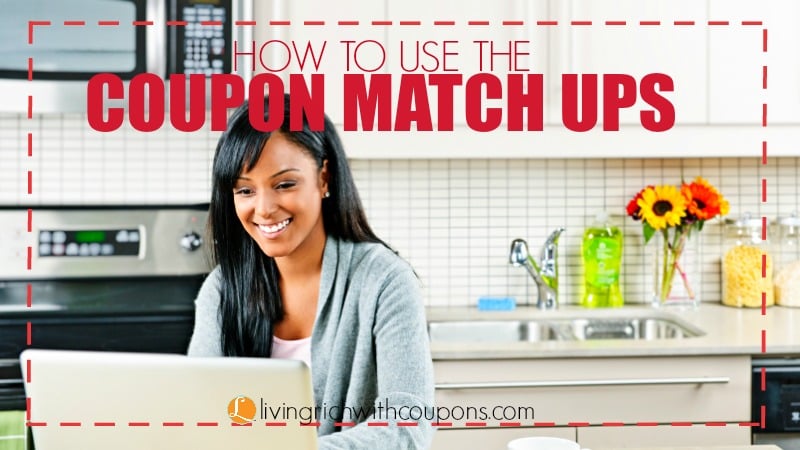 Using the Living Rich With Coupons Rite Aid Match Ups save you tons of time.  All the work is already done for you.
First be sure to Sign up for a FREE LRWC Plus account. When you sign up for a LRWC Plus account, you can save multiple shopping lists making it even easier for you to stay organized.  Watch Cindy explain how the LRWC Plus accounts work
Our posting schedule for Rite Aid is as follows:
Tuesday: Preview Deals Posted
Saturday: Complete Match Ups are ready
Some things to keep in mind when reading the match ups:
Coupon Variations: Keep in mind that coupons may vary from regions or even newspapers. Other areas may have additional or different value coupons. All coupons, from all regions are shown in the match ups
5. Additional Ways to Save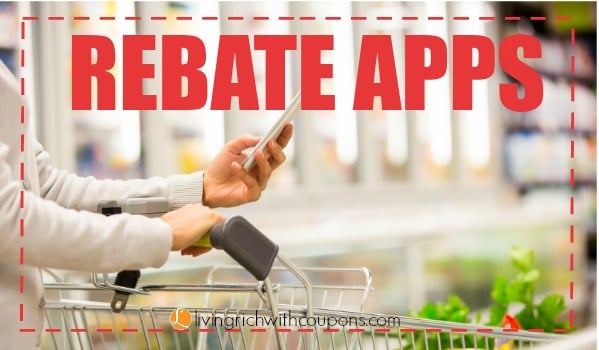 Besides coupons and digital coupons, there are also rebate apps that can save you even more.  Here are some of the apps available for Rite Aid:
Ibotta eCoupons – Ibotta is an app for your smartphone. You earn money by taking a quick poll, watch a short video or even just looking at a recipe. Each action will earn you more money once you purchase that item. Purchase the product as you normally would. Using coupons will not have any effect on your ibotta offers. If you like, you can even scan the products barcode through the Ibotta app to be sure you are purchasing the correct product. Once you have made your purchase, you simply take a photo of your receipt through the app. The amount of the coupon will be deposited into your Ibotta account.
BerryCart is a rebate app geared towards organic, healthy, GMO Free Foods. Each week a variety of foods are added.  To get the rebate you need to upload your receipt to the app and your rebate amount is added to your Berry Cart account.
Checkout51 is another rebate app.  You make a purchase of any of the products from the list of current offers, upload your receipt to the app and receive money back into your Checkout51 account.
MobiSave is currently available for Apple based devices ONLY.  Much like their predecessors, MobiSave offers you rebates on items that  you can choose to purchase.  Just take a picture of your itemized receipt and submit.   Rebates are posted to your account normally within 24 hours.  Cash out your account at any time, NO MINIMUMS to meet.  Visit the Apple ITunes Store and download MobiSave for free!

6. New to Couponing?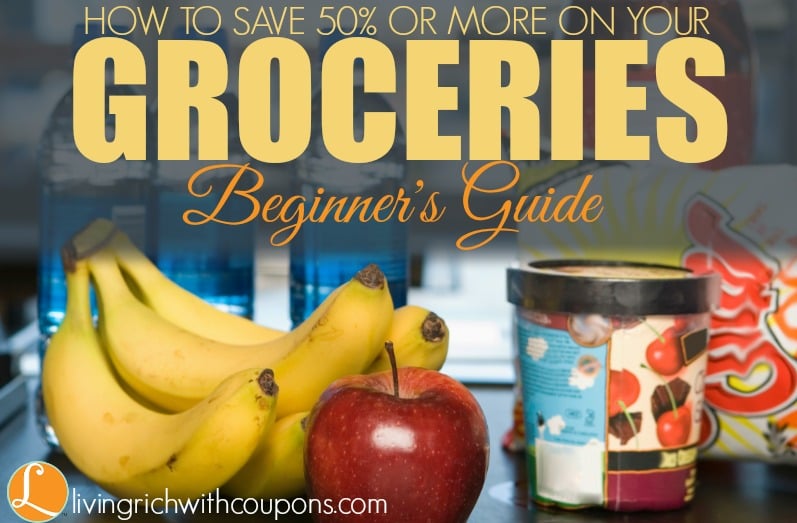 We have four sections below to help you get started using coupons and saving money on your groceries.  Click the links below to bring you to the section you are interested in reading about.
Table of Contents:
Stay connected with like minded couponers: